As email marketers, we all know it's the channel that gives the best ROI and the emails which get the best open rates are ones sent after the transaction is complete. These include automated order confirmations and delivery notifications so it's important to get right them right.
Tinder culture
In a world where retailers are a click away from a competitor, it's tempting to keep jumping to the next option in the hope you'll find a better deal. Most customers now have the attention span of around eight seconds so making sure you deliver them the right content immediately is critical to reduce distractions from a myriad of online things they can do.
Today's promotional environment has made shoppers highly promiscuous so loyalty is a bigger issue than ever. To keep your customers interested and prevent the 'swipe-right, swipe-left' mentality you need to provide personalised content based on prior purchasing behaviour and make them feel special.
Automated emails triggered by user action give open rates about eight times higher than a general marketing email. It's easy to see why; confirmation emails contain information giving your customers peace of mind that what they have just bought has been acknowledged and allows the chance to check the order details are correct. Delivery notifications let your customers know when their order will arrive.
Like all emails you send to customers, post sales emails should represent your brand and be designed and coded to look good and work well on any device. There are still many examples where confirmation emails look like an after thought, containing basic information in an even more basic format.
Keep 'em coming
Often, confirmation emails are standalone messages but they should just be the start of your post-sales communication. Depending on the industry you're in, further emails can include product delivery notifications, pre and post-stay emails and customer satisfaction surveys. Fitbit emails are a great combination of strong branding and easily digestible information.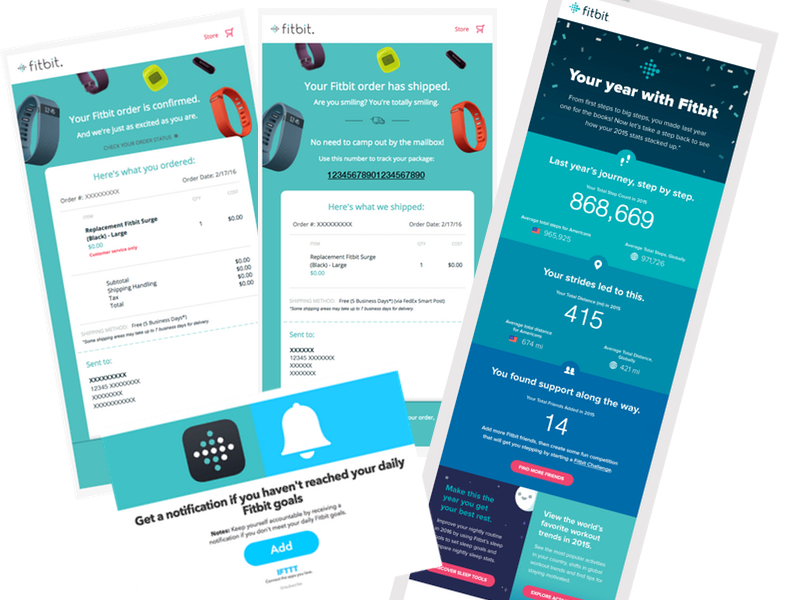 Moreover, confirmation emails happen at critical points in the customer lifecycle. Confirmation emails provide you with fresh information on where your customers are in their lives and how what they want can change. You can use this data to send them more offers designed to attract attention.
Opportunity knocks
The high open rates from post-sales emails are a great way to up-sell related products and services. Most of us are used to this from automated Amazon emails, in fact we are so used to this from Amazon – because of the high frequency – it's easy to become de-sensitised to this approach, so use it sparingly and keep relevance high!
Here, Dollar Shave Club use great copy and images to encourage you to add to your order before it's shipped.

Tell your customers where to go
Don't be scared to add website navigation to emails. If people are going to jump away from your core message they will but emails with even limited navigation have more than double the click-through-rate of those without.  All links go back to your website so allow people to click away! Navigation needn't be boring either…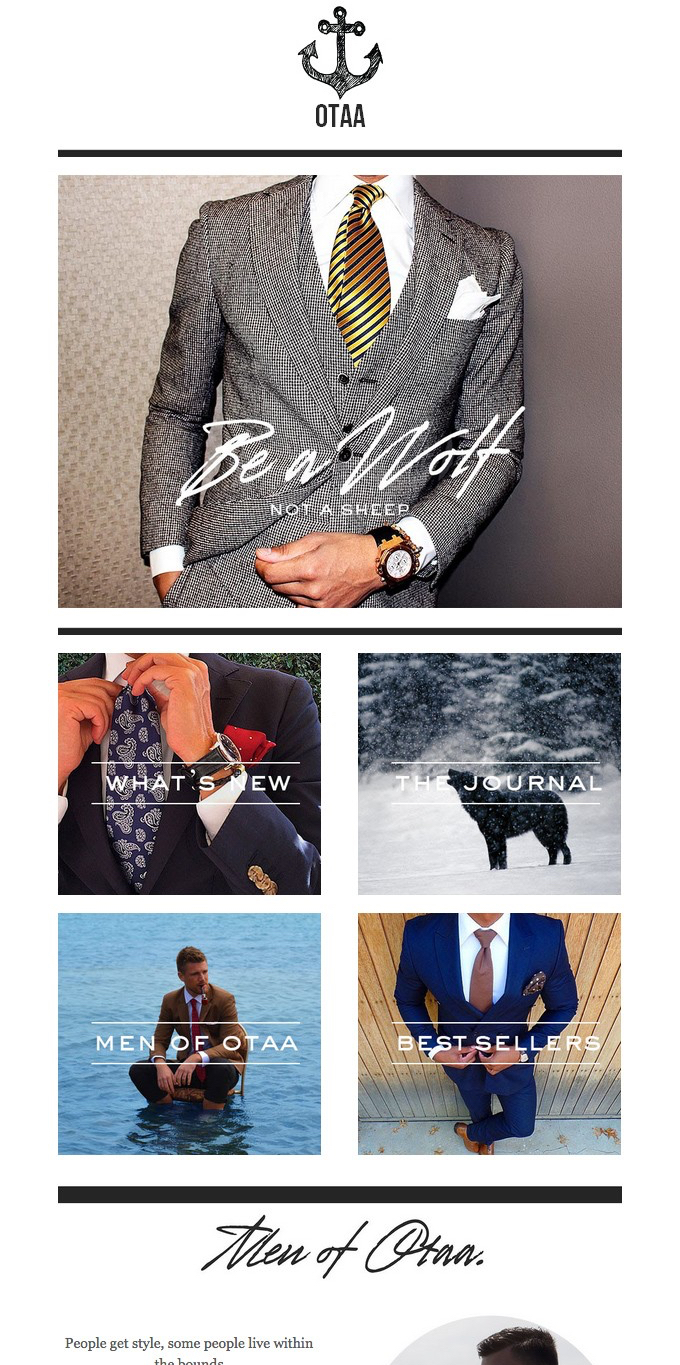 Other links to include are newsletter sign-up, delivery tracking and customer service. Giving your customers options makes your brand more useful and your customers lives easier as they don't have to trawl around searching for information should they need it.
Get social
Add links to social media in your confirmation emails so customers can easily share what they've bought with friends. This is free brand promotion and can increase your reach to thousands of potential customers. And like emails with navigation, emails with social media links have higher click rates than those without.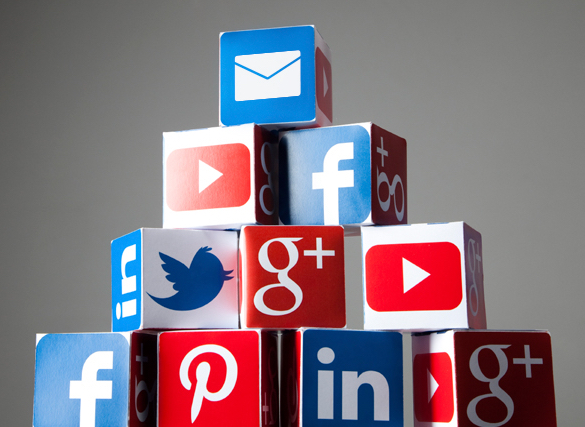 Come back soon
Including a discount code to your order confirmation email is a great way to incentivise another purchase. For the extra feel good factor, phrase it as a 'thank you for shopping with us' reward. Smarter still, you can track redemptions so you'll know whether or not to include a reminder in your next marketing email.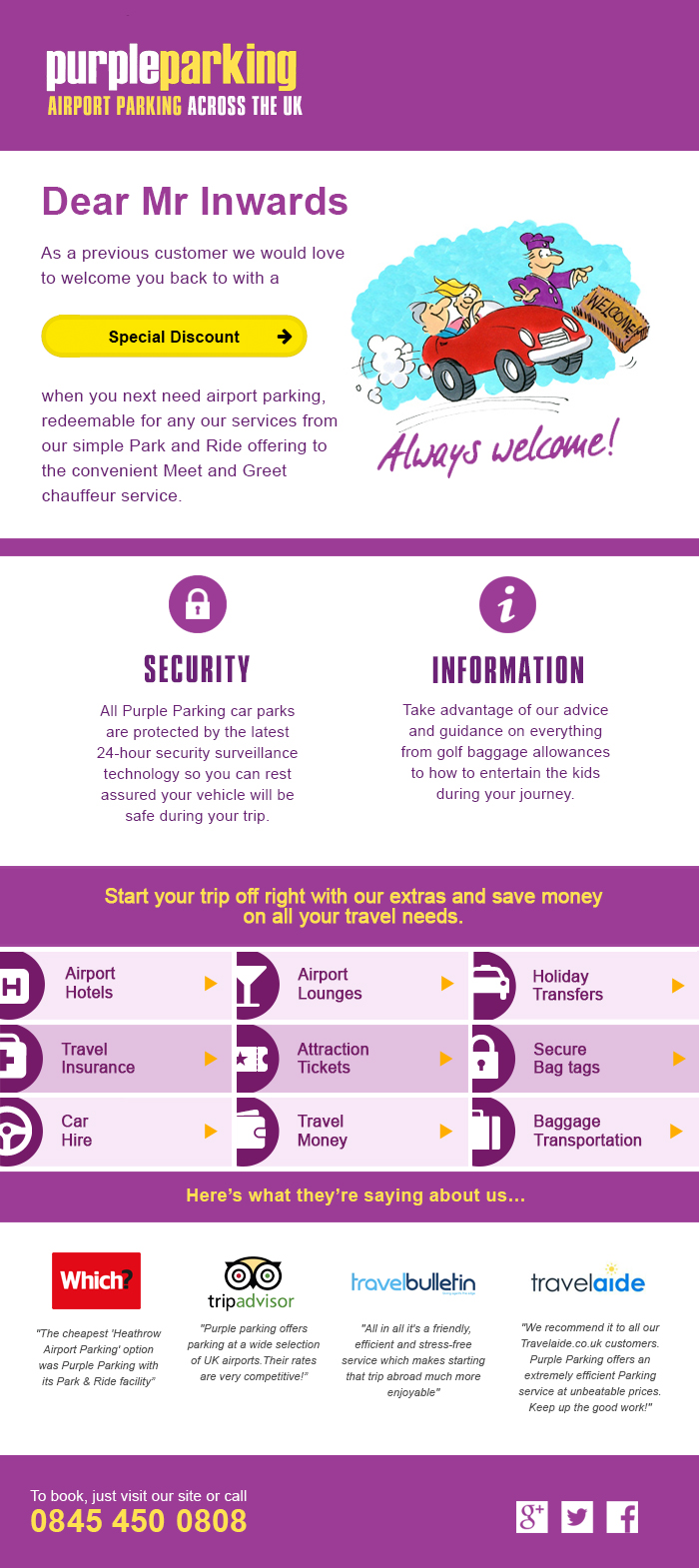 It's all about you
The phrase, "the customer is always right" should resonate more now than ever – if you don't deliver a good user experience with email to the website and back to email again your customers will swipe left until a they find a competitor who does.