Messaging channels, both niche and mainstream will come and go and social networks, whilst making improvements with targeted advertising, are places most of us go to interact with friends. Email, on the other hand, is where our attention is more focused and a significant portion of our online time is spent – it's still the top reason why most of us go online.
Online activities ranked by regular usage in the UK (March 2016)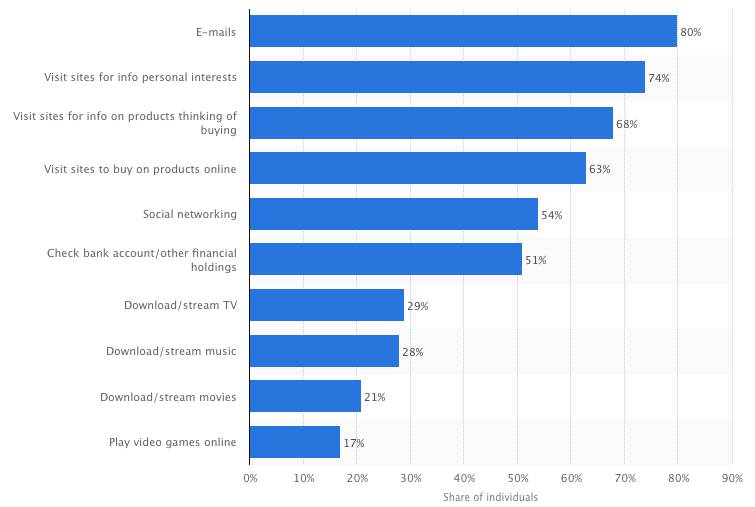 Source statista.com
The key is permission. When we sign up to receive emails from websites and brands it's a deliberate choice, whether it be brand affinity, interesting or useful content or deals and offers we don't want to miss.
I can almost hear the sighs of relief from here but, as any email marketer worth their salt knows, there is no time for laurel resting. Yes, you will still make money from email but it's the opportunity cost that's being missed by many companies.
A number of things are happening to us as consumers; we're used to the online world and are immersed in it every day. But we're like butterflies in a meadow, flying from flower to flower and it's the big bright ones with lots of pollen that make us hang around. Our expectations have changed too; we want an online experience that meets our needs and as quickly as possible – our patience is diminishing.
Emotional junk folder
The returns for emails such as those with the same content and offers for everyone will earn less and less – we emotionally 'junk' them and move on. In the future only smart, innovative and highly personalised emails will engage us.
Open or delete
Brand recognition, subject lines and pre-headers will play an increasingly large part in success. Whether your email gets opened or deleted is a tap or swipe away and the time to make that decision will fall to a few seconds at best.
Read or delete
Thoughtful email design, leading edge coding and selective use of real-time dynamic content to create a truly bespoke email for every recipient is what will engage us and drive website traffic.
As technologies and channels converge, emails need to stand out from a crowded inbox and a plethora of social media sites and messaging apps. We want a connection with our brands of choice – stock images and corporate-speak copy is a turn off and can come across as a money grabbing exercise starved of personality or care.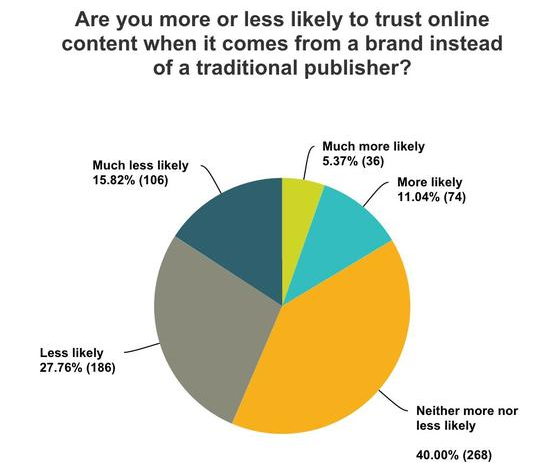 Blurred lines
As devices and webmail providers continue to develop, the email experience will start to resemble a more dynamic environment akin to the web. New tools and innovations have the power to change email from a static state to a highly customised message able to adapt using live marketing and consumer information.
Switch it up
Whether it's email, social media, or viewing video, younger users are more likely to jump between devices acccording a recent Adobe survey and, yes, email tops the list again so it's critical to ensure the emails you design appeal everywhere and are coded so they work everywhere too.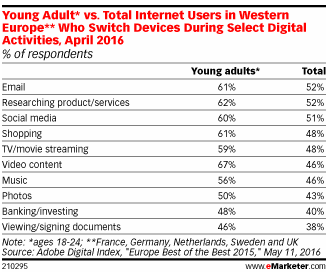 Content is King
To find out what types of content people were gravitating towards, scribblelive.com asked what online content they had read or looked at in the past week. What? Another survey where email came out on top?!
Email – 95.82%
Articles – 90.45%
Social Media – 79.85%
Videos – 77.31%
Infographics – 55.07%
However, to stay at the top of the pile, email has to continue to develop into a true one-to-one messaging medium.
On and on
The 'always on' audience has been around for a while now – using multiple platforms to consume content throughout the day, making buying decisions based brand on information, peer reviews, video and unbiased recommendations – all of these elements can now be email content. We're increasingly annoyed by interruptive marketing which is why email can cut through the noise if it's done well.
The future is bright – the future is email!