Target your sign up messaging for a high quality email list
Great sales and marketing programs deserve a great audience both in size and quality, so it is understandable that that lists and data quality are in the top three of priorities for marketers this year.
If we want to increase our email list growth, where do we look? I oftentimes refer to a running joke from the services industry. It goes something like this: Our services are : 1) Cheap, 2) Fast, and 3) high quality. Pick two. It holds a lot of truth, often those three options don't line up together, luckily there are ways to growing your email list while retaining quality.
Your strategy for promoting signups should ideally be a low strain on resources that leads to quality subscribers. So when we are looking for the ideal list growth opportunities, we need to look where the quality and costs are already fixed and cemented and a lot of the investment (hopefully) is already done; your owned channels.
I prefer to think of these as low-hanging fruit. Every time with a client when we brainstorm and rank email list growth opportunities, these end up in the higher echelons.  Marketers realise the importance of staying in touch with your clients and prospects. Now to look at the quick optimization of one of these high quality touchpoints, your website.
Call to subscribe
People might actually never see your homepage, but come directly to a blog or product page after they clicked through from their search results. Every page on your site is a landing page these days, so it makes sense to put a sign up form or signup link on every page. These can be baked into the header, navigation, sidebar, footer or – even better – a combination to get an even higher visibility.
At a minimum add the subscription to the list of channels and contact links you often see. Here is an example of Bain&Company doing just that in their footer. They call it Bain Insights (which is again another name for the newsletter).

Give special attention to high traffic pages.
From your website analytics you can identify the pages that get the highest number of unique visitors as well as the ones that are best at acquiring traffic directly from search engines. There are usually a small number of pages;  the traffic heroes.
It pays to give these pages need some extra care and  craft a more specific subscription reason or incentive to sign up. The reason people visit these pages are because of the context and content of the page. Instead of the generic "more information", it can be "more information about [insert your topic]" or even better, a "content upgrade" as an incentive to sign up.
So if this article is about list growth, I could say sign up for our newsletter [with a link to sign up]  and  receive regular tips to quickly grow your list. Or something more general but still on topic along the lines of "Download this whitepaper" [link to whitepaper with sign up] for more actionable email marketing tips.
Smart Pop-ups
Although some are really too intrusive, a pop-up / pop-in can give your subscription rate a definite lift. Less intrusive are slide-ins that appear at the bottom or side of your page. This option is very easy to implement. A pop-in only asks for a copy-paste of a piece of javascript code. But the real trick is to make the email subscription pop-up intelligent enough. Present a good subscription reason and perfectly time the action.
There are plenty of pop-in software plug-ins that allow you to split test several versions and add smart business rules like "show only after they have been on the site more than 30 seconds" and "only show to new / returning visitors".
A newer type of these is the exit intent pop-up. The letter X is still the most popular Call to Action, so you need to make sure yours is better. This pop-up trigger only shows the sign up once people are gravitating to the right top of the page or show signs that they are about to leave your site, making it an effective "just one more thing" before you never see them again.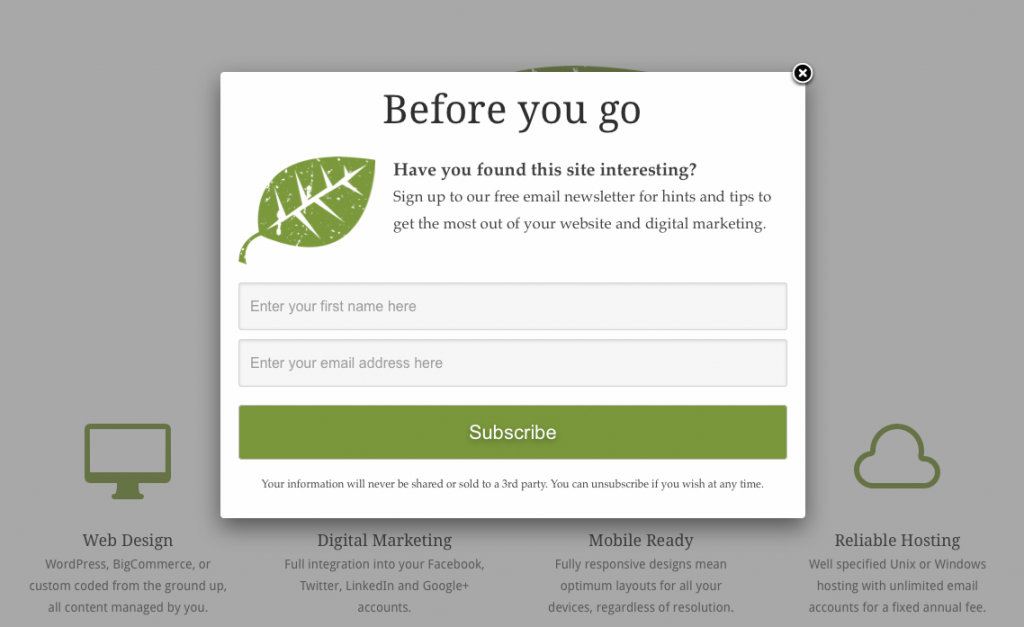 (source: elmnet.co.uk)
Create a dedicated sign up landing page
Even if you have a  subscription form on every page of your site, a separate sign-up page is very important. This is your sign-up landing page. With a dedicated sign-up page you can directly link from other channels, social media, websites and blog pages, even from your transactional messages or product packaging.
A dedicated page can sit directly on your website, or you can use a hosted service. I would go for the first one, but the sole purpose of it remains to get people to subscribe. Of course you would still need to promote that page and link to it in those other channels.
Conclusion
Marketing is about interaction with the right people. Being smarter about targeting your sign up messaging and making the most out of your current assets like your website and organic traffic can boost your list growth while keeping quality high.
If you put a lot of effort into creating great marketing and sales messages, they deserve to be seen.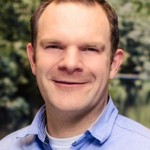 Jordie van Rijn is an
independent email marketing consultant
has a love for coffee and well executed email and marketing automation strategies in the morning. With over a decade of experience, brands like KLM, Unilever and Eurail turn to him for advice.