We all know how important it is to make a good first impression – especially when we've spent time and effort to look good in front of those we want to attract!
So how do you do that with emails? Building an email database is about more than building a data capture form on your website as you need to drive traffic – whether it's SEO, PPC, generating followers through social platforms or more traditional media – getting people to your website is an expensive business.
So, when people do find their way to your website, ensure two things are done well; make it quick and easy for them to add their email address to your mailing list and create a compelling and flexible nursery programme of emails to take people on the journey from introduction to purchase with minimal resistance.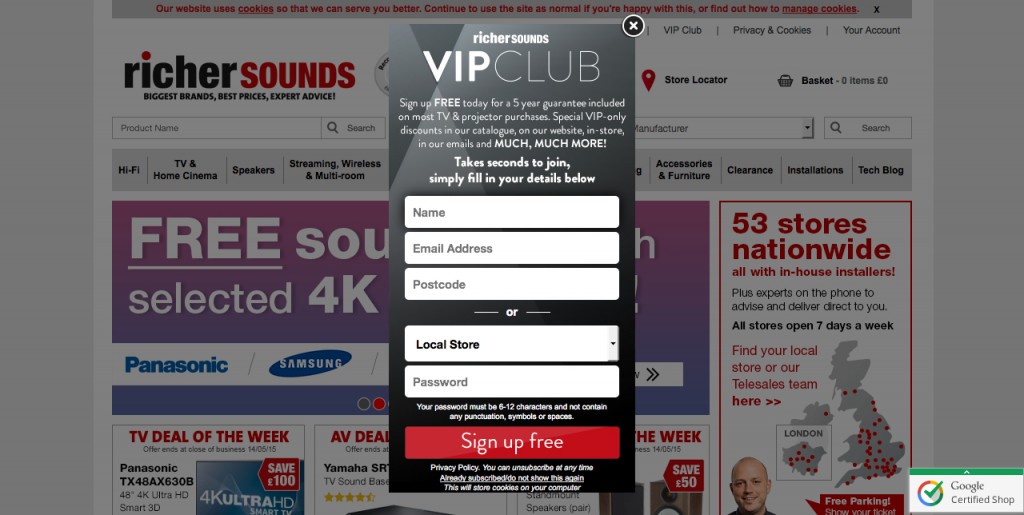 We all know attention spans are diminishing because of the plethora of channels and devices vying for our eyeballs and this is compounded by our increasingly mobile browsing habits, We're dealing with small screen sizes, tiny touch keypads and people on the move so encourage people to sign up to hear from you with a simple process asking for email address only and giving it prominence on every page on your website.
There are plenty of websites out there that make it more difficult than it needs to be – how many times have you had to search for the email sign up form or for a brand you hardly know asking for lots of information up front, such as postal address, gender and age. "I don't know you yet and you want to take me to tea at your mothers' already…?!"
Also, ensure a confirmation page is served on submission so people know they have been added to receive emails and use this to encourage people to submit more information about themselves and their preferences with an optional second form.
Depending on your business, asking what people would like to hear about should come across as a positive step as it means more relevant content and offers can be sent right from the start.
So, you've got me on your email database. Now what?
Over the years we have seen that the most responsive data is the newest data and that's no surprise. What is surprising is that many companies just add this data to the master list so new users get the same email as everybody else and this is often compounded by receiving this first email whenever it's scheduled to go out which may be days or weeks away from the date of sign up. How would you feel if you asked your date where they would like to go only to be ignored for ages then answered with "oh, anywhere will do"?!
What's required is a sequence of emails that engages people immediately and guides them down the path of doing the thing you would like them to do, which is usually making a purchase from a website. And as we all like to know what we're letting ourselves in for, consider the following:
Email content
Explain the type of emails you will be sending – marketing offers, informational, customer reviews, blogs, community and so on. The approach should be friendly and informal but also concise with a clear, quick and easy to understand message.
Visual appeal
Design emails that are responsive and so render differently depending on the device they are viewed on, using strong, high-resolution and original images to generate instant appeal. Ensure the call-to-action is clear and easy to tap on a small screen.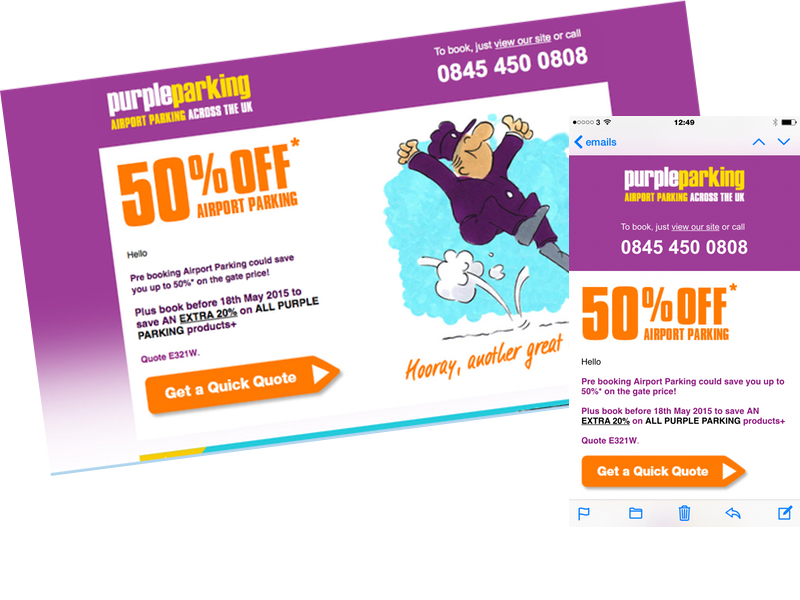 Perceived value
People need a good reason to read emails these days. A combination of strong offers that are tailored to individuals, along with useful and interesting content will keep people engaged.
Frequency and timing
How many emails will people receive? If they're expecting a monthly newsletter and you send three emails a week the best you can hope for is an unsubscribe or worse, complaints to the likes of Hotmail, Yahoo, AOL etc where every one of these has a negative affect on your reputation as a sender and makes delivering emails harder. For more on frequency and timing see 'If not now, when?'
Integrity
Engender trust by confirming how data will be used and include a link to your privacy policy in every email. Showing that you care and being open and honest is what we all like so it's critical the promises made at the outset are followed through.
A welcome email sequence should start with an introduction triggered as soon as the submit button is hit. Consider leading with a strong offer – a 'money off your first purchase' discount code for example. The secondary content can be used to explain what types of communications, how many they will get and when they will receive them so you can set expectations.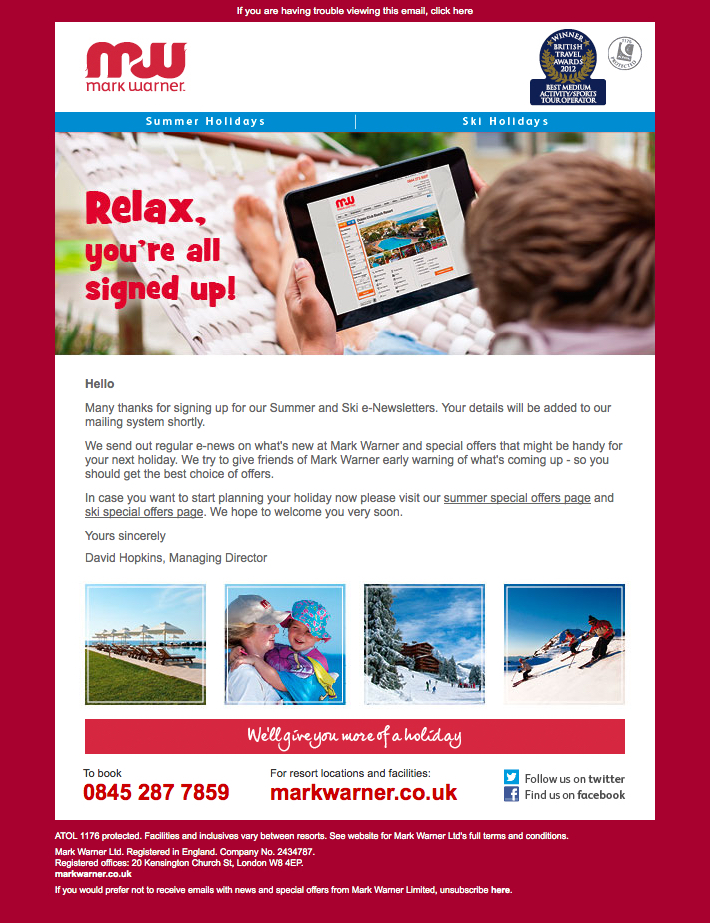 After three to four days, a second message should be sent to people based on interaction with the welcome email – and consider a multi-tier approach based on the type of interaction; not opened, opened but not clicked, clicked but not purchased.
For time specific offers – whether fixed such as a conference or concert, or voluntary such as a discount code expiry – a third email can be sent to serve as a final reminder. This approach gives your new members the best brand experience by being immediate, relevant and offering them an incentive to buy sooner. As well as the business benefits, you get engaged users from the start and that will have a positive impact on email delivery.
This is just the start of your relationship – a great first date is one thing – now you need to keep the love alive for the longer term end we need to start working at making sure we have a long and happy relationship.
And like any successful relationship, it all starts with knowledge, understanding and consideration:
Where people came from when they signed-up for emails
How they reacted to your welcome emails
How they interact with your ongoing email communications
How they use your website What they have bought from you and when
Do you still care?
As time moves on, so do we and it's important to track and monitor patterns of behaviour and interaction with our email marketing and communications. People change. We move, change career, grow older, start a family – and our needs change accordingly. Regular reviews of how people are interacting with your emails and how they're using your website will give you valuable insight in modifying how you speak to them. Testing different email types, designs and offers will also provide insight into what works best today and how you need to modify what you send and when in future.
'til death do us part
It's a highly connected and fast moving world out there and one that is full distraction and temptation. For better or for worse and 'til death do us part is pretty rare these days – it only takes one bad customer experience for a break up and there's a strong chance the word will spread and affect your chances in the dating game. To keep your relationship going for as long as possible make sure you understand your customers and are give them what they want.