It will be no surprise that customer behaviour has changed over the last year due to the pandemic and this is no different for email marketing. The way in which customers now receive, view and interact with emails has shuffled due to customers having more time at home, and a bigger perspective of what they want to be spending their valuable time on. Companies must therefore play close attention to their customers, analyse their email behaviour and observe their natural buying behaviour for which they can then use email to generate conversions.
The increase in internet traffic over the past year saw a significant increase in email open rates but a fall in click-through rates due to the sensitivity of emails with no CTAs, however, email continued to act as a source of communication and connection between brands and consumers throughout the continuous pandemic.
So what are the biggest email marketing trends happening now, now that we are more than a year on from the moment the world changed forever?
Email personalisation and dynamic content
Personalisation in email is nothing new, some could say it's almost the "norm", but it has become more important throughout the pandemic. The pandemic saw a rise in personalisation within email according to litmus as brands and companies sought to stay connected and become more connected to their consumers, adjusting to their changing behaviours. According to Email on Acid, 68% of industry experts believe personalisation improves email performance.
Personalisation is now more sophisticated and manageable, and with more data increasingly available, levels and opportunities of personalisation are possible. Data such as name, engagement rate, geolocation and other profiling attributes can be used as (dynamic) segments of an email that can be personalised and tailored to each customer.
Personalisation is contributing to the end goal of one-to-one marketing via email. Brand-to-consumer communications can obtain a personal one-to-one effect from personalisation. This is especially true as AI plays a part in this becoming increasingly clever. AI will enhance personalisation in the future.
Personalisation can also be extended into the subject of a consumer's email preferences whereby consumers are now choosing the type of emails they wish to receive. As more brands adapt to consumer needs and wants, each consumer's preference for a brand's email marketing becomes more personalised. For example, 2020 and now 2021 has seen brands such as Space NK offer their customers an opt-out option for upcoming and possibly sensitive email marketing messages regarding holidays such as Mother's Day and Father's Day.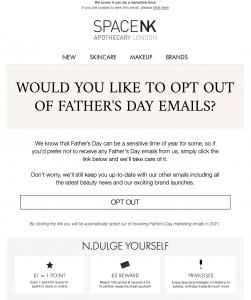 Email content
Content, email content especially, has become of higher importance in recent years. It has become somewhat of a strategy in itself. Valuable and relevant content is sought after by consumers emphasising the need for purposeful content now more than ever before. According to Email on Acid's 2020 report, 68% of industry experts agree on prioritising content optimisation to improve email marketing effectiveness.
To make sure your content remains authentic and relevant, a hierarchy of typography is recommended in emails. That clearly differentiates headlines, sub-headings and body. Although this is maybe a basic point to make, it is so important to follow. It allows your content to be easily read, increases 'scannability' and is aesthetically pleasing.
Visual content is also trending for 2021. Visuals, imagery, visual storytelling and video content are increasingly being used by brands and loved by consumers. Video in email in the form of animated GIFs is also increasingly being used in email and said to have a higher engagement rate and used by 51.28% of marketers according to litmus. GIFs found fame from social media and are hugely relevant to millennials and "older gen z's". These demographics are becoming the primary target market for most brands now.
Segmentation and automation
Segmentation of data for email marketing allows for a more focused and personal customer experience. Not only that, it is also essential for deliverability purposes. Where one email is not relevant for all customers, segmentation offers opportunities for customers to only receive what is relevant for them. Whilst segmentation based on customer engagement levels is widely used already, it is increasingly popular due to the changing email interaction behaviour of consumers previously mentioned.
Segmentation should be optimised for the use of triggered emails sent to consumers. Grouping consumers into levels of activity and engagement and then using automated emails for re-engagement or where else relevant is important. The world's most trailblazing brands are doing so increasingly often. Helping to pave the way for email automation is the use of Artificial Intelligence (AI), machine learning and a deeper understanding of consumers. Alongside personalisation and segmentation, automation enables more regular and relevant contact/communication between brand and consumer providing increased email engagement rates.
Responsive email
Whilst responsive design is the gold standard of email, many brands are considering mobile-only email design as they find the majority of their emails opened by consumers on mobile devices, according to Oracle. This said, responsive design is most likely to dominate for the foreseeable future. Nonetheless it will be of no surprise to see a mobile-only email design growth as the mobile internet age continues.
Data and GDPR
Data and GDPR have been hot topics in more recent years and that's not about to change. A bigger spotlight now rests on GDPR and data with legalities of email forever changing. Compliance with data is more important than ever. It's set to only become more important as consumer privacy and data rights increase. Therefore, data has become more valuable, richer and in a sense, harder to obtain. New and ever-changing laws for acquiring and retaining consumer data, opt-out and preference options means email lists and databases hold increased value. That will therefore have an effect on email marketing.
Eco-friendly emails
As sustainability continues to be the world's biggest topic, the carbon footprint of emails is increasingly discussed. As the most common form of digital marketing and communication, email does indeed possess its own carbon footprint. Power is needed for data to travel. There's an energy cost for the internet to make, send and receive emails. They are also accessed more regularly, given the always-there convenience of mobile. According to OVO Energy, the process of email data travelling requires a "sizeable" amount of power. So what does this say for email marketing?
The answer is that it adds to the requirement of a brand's emails needing to be more relevant to their customer. That is more true than ever before, but it is safe to say email marketing is most likely the most sustainable form of marketing any brand can partake in. Compared to other forms of marketing; social media marketing, traditional advertising and so on, email marketing is most cost efficient. It has a higher ROI and sustainable. Eco-friendly emailing is set to be more up-and-coming and increase in importance so watch this space!
Final thoughts on the latest email marketing trends
There is a lot of food for thought on the email marketing trends for 2021. It is worth reviewing your email strategy. Consider if incorporating or further developing these trends into your email marketing is relevant for you. Just because they are trending, does not mean every one of them has to be adopted. Trends must only be used and followed if it is relevant for the brand to do so. If you want to review your strategy, I suggest reading part one and part two of our Email Marketing Strategy blog.