Purple Parking, the UK's best airport parking service, used to do pretty good email marketing. They segmented their data; they sent appropriate, targeted messages with on brand crisp creatives; their emails got opened; they got clicked, and parking got booked. All in all it was a pretty effective programme and they sell parking services so that was that, what else could they do to improve things, they had everything seemingly covered. In essence, they did good email marketing but not great email marketing.
Well, the Purple Parking management team had different ideas, they wanted more, so in conjunction with Spike Marketing and display block they came up with a great email marketing programme. Not excellent, just great. Excellent is still to come and is going to be in the detail but it is a working goal – right now they are great email marketers and let me explain why. Firstly, they realised that their greatest asset was their data and they needed to leverage that in order to maximise their revenue opportunities. Based on a data audit it was agreed that the following automated email programmes should be implemented.
Welcome email sign up
Customer survey questionnaire/Welcome back
Anniversary of Booking
Pre-departure
Basket and browse abandonment
Re-engagement
1. Welcome email from sign up
Generally, the most responsive data is the newest data so it should be treated differently. Create a sequence of emails that engages people immediately and guides them quickly down the path to purchase and also to joining the Purple Parking community. We put in place what looks like a complex workflow but which addressed all of Purple Parking's requirements perfectly.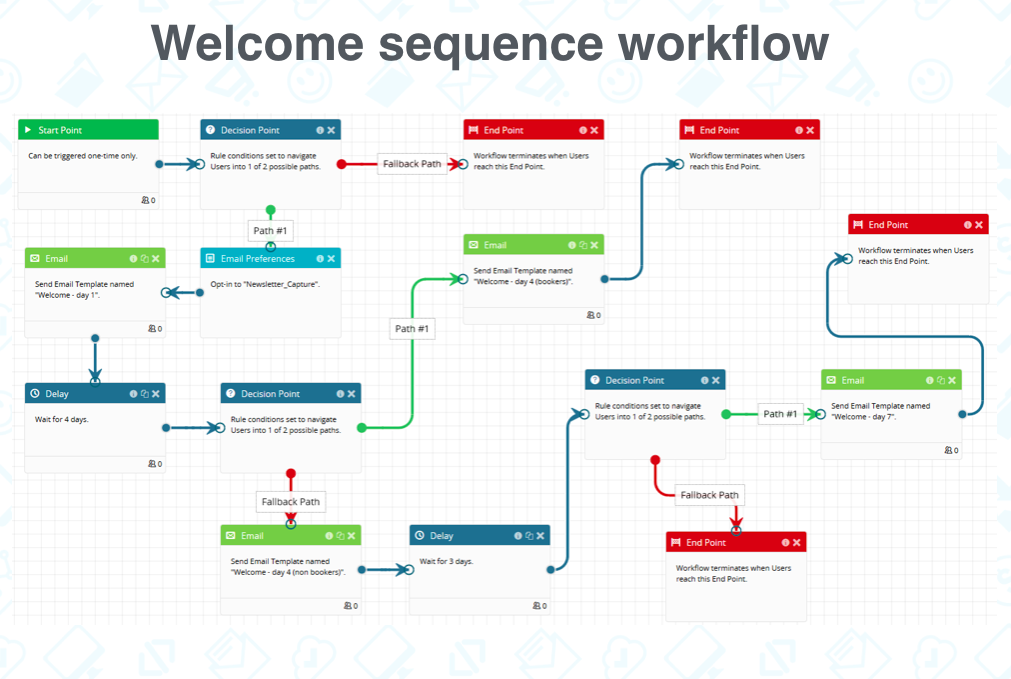 This approach gives their new members the best brand experience by being immediate, relevant and offers them an incentive to buy sooner. As well as the revenue benefits, Purple Parking get engaged users from the beginning and that also helps with their email delivery.
2. Customer survey questionnaire/ Welcome back
A lot of travel companies send a welcome back email and often use it as a chance to try and re-sell the customer next year's travel product, but Purple Parking wanted to be different, they wanted to use the customer survey questionnaire and the learnings they got from it to improve their business. They wanted to automate the process and they then wanted to deal with the very occasional dissatisfied customer quickly and in a personal manner, rather than let any negativity fester – their refreshing approach was to fix the problem.
So, on collection of their car the customer gets an email incentivising them to fill out a customer survey questionnaire. The questionnaire seems simple enough, but behind it there is an algorithm and weighting on each question which gives Purple Parking an accurate view of their customer satisfaction – where there is a high level of satisfaction they are sending out a please review us email and where the satisfaction level is low one of two things happen; either a customer services representative gets an email trigger letting them know so that they can contact the client personally, or, if it is a low rating and the client happens to be in their top 100 clients in terms of revenue, the trigger sends one email to the customer letting them know that the Head of Customer services will be calling them and one to the head of customer services with the contact details and the questionnaire responses in order that they can resolve any issue. This approach leads to great customer service and retention.
3. Anniversary of Booking
The anniversary of booking email proved to be trickier than it sounds and is not suitable to clients who use Purple Parking for business purposes and on a regular basis. Therefore Purple Parking had to put in some business rules which would help them identify which were holiday bookings and which were business or regular parking bookers. This allowed them to automate and make intelligent decisions as to who the anniversary of booking email would be most appropriate.
4. Pre-departure
Pre-departure emails are used in order to cross-sell or up-sell things like meet and greet parking or associated travel products like hotels, travel insurance, car hire, airport lounges etc. The problem Purple Parking had with these emails was when to send them. An end user can get between 0 and 3 emails depending what they booked and how long before departure.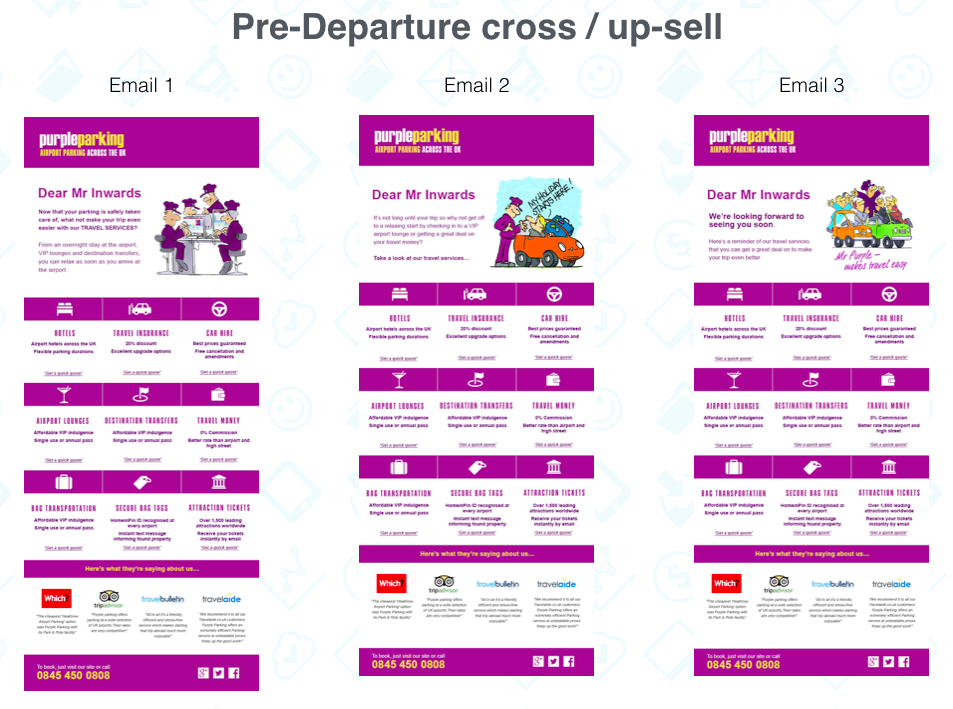 5. Basket and browse abandonment
Although two very similar programmes, the rules are very distinct and need very careful consideration, planning and integration. Both basket and browse involve data capture site side and the building of an email marketing database if one isn't already in place. Often this can be done within the email platform but in this instance and because of the integration of a number of other automated programmes we built a bespoke email marketing database which in turn has an API integration into and out of our Enterprise Email Marketing Automation Platform. Purple Parking tagged up their site with our JavaScript in order to recognise returning customers or browsers and workflows were set up.
Basket abandonment business rules were fairly easy to determine – someone leaves something in a basket then the basket content is scraped, dropped into the basket abandonment template and the email is triggered, all within the chosen time period of the basket being abandoned. If the recipient completes the transaction they are moved onto the Pre Departure up-sell workflow. If they don't, 24 hours later they receive a second basket abandonment email reminding them to complete their purchase. Browse abandonment has a whole different set of proprietary rules because if someone has a look at something once it may not be appropriate to send an email but if they look at several versions of the same thing or many pages within the process then it makes sense to follow up with the Browse Abandonment emails.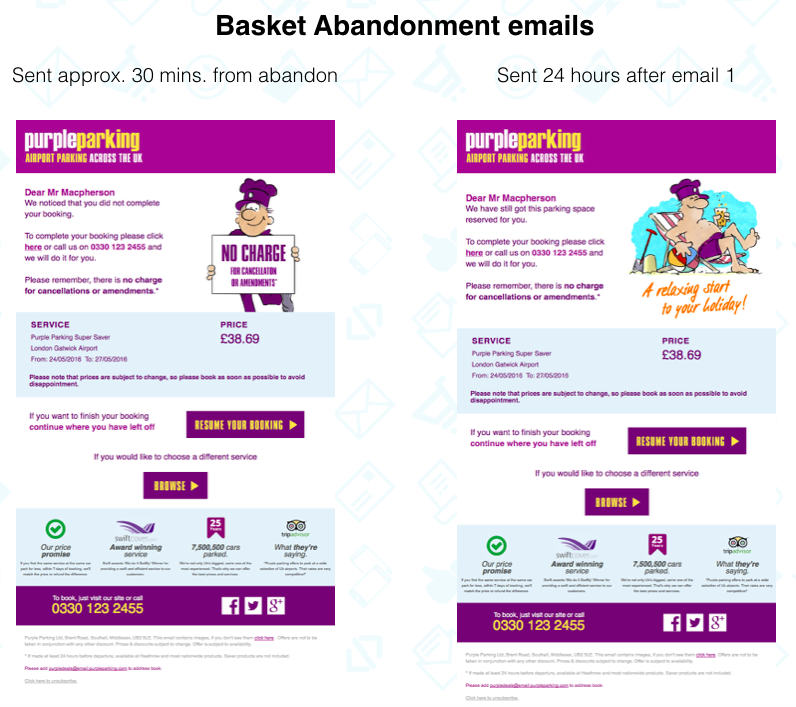 Both of these programmes are a work in progress but in the 3 months since we launched BA, tens of thousands of emails have been sent, their open rate is double that of Purple Parkings already very respectable general marketing emails, their click through rates are 3 times that of their marketing emails and around 30 times the number of sales per email sent.
6. Re-engagement
Purple Parking recognise that airport parking is not something that people need to do all the time, there can often be breaks of more than a year between bookings. With that in mind Purple Parking took a two step approach. Step one is around a re-engagement programme and they have put in place a series of 3 emails to people who haven't engaged with them in the last year, this is not just best practice but good house keeping and keeps their data set clean fresh and engaged while also making sure they don't remove people who are happy to continue to receive the emails and probably more importantly the offers but don't have a need to book immediately.
They follow through on this approach with a preference centre unsubscribe. Often people will want to take a "rest" from receiving emails rather than totally unsubscribe and Purple Parking allow them to do this via a form which writes back to their email marketing database and automatically changes the recipients preferences. This simple process has resulted in thousands of customers changing their preferences.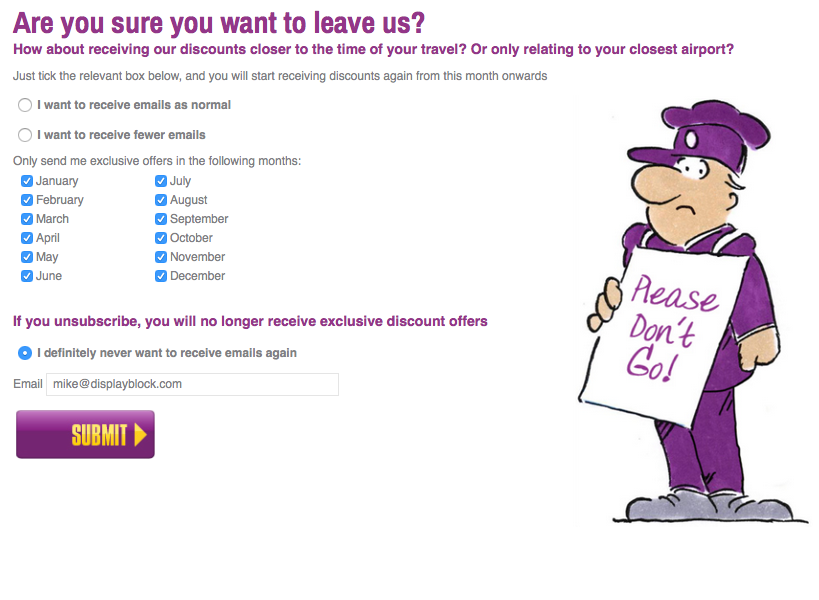 These actions are just phase 1 for Purple Parking in doing great email marketing. Phase 2 will look at how we go from great email marketing to excellent email marketing but the biggest challenge has been overcome, Purple Parking management have the vision and the willingness to make this happen.