It's fair to say that we are all used to receiving many marketing emails every day. None of us are sat there desperately waiting for marketing emails but we do care about some more than others – we open and read emails based on the sender, subject line, whether we have free time and our mood in general.
On the marketing side of the fence, we're looking for any angle that will inspire more user interaction with our emails – targeted content, irresistible offers, inspired design…
Something else to consider is seasonality but it needs to be thought through, be relevant to your products or brand and stand out from what can often be a deluge of similar emails, many of which are just using a date or season to push for more sales. Approaches like 'It's Christmas, take a look at our festive flip-flops' brings out the cynic in me for some reason!
Thinking seasonally adds another dimension to your emails and every season provides a host of ideas for your email campaigns, from national holidays to our classic British weather. As consumers we're thinking seasonally anyway so there's already a common reference point.
As it's summer now (yeah, right!), let's start there.
It's the time of year most of us have been pining for since it ended last year! We think about relaxing and enjoying the sunshine, al-fresco drinks and dining, family and friends barbecues, sporting activities, weekends by the sea and in the park and so on. However, the British weather generally doesn't make this easy so we appreciate a back-up plan and this can present marketing opportunities.
All-weather approach
Ask any Brit what weather they're expecting on a Bank Holiday and you'll get a resounding 'rain probably!' response. Marks and Spencer took the approach of clothing suitable for all weathers and the tag line 'Weather-proof your Bank Holiday' which makes us think 'yeah, they get it'.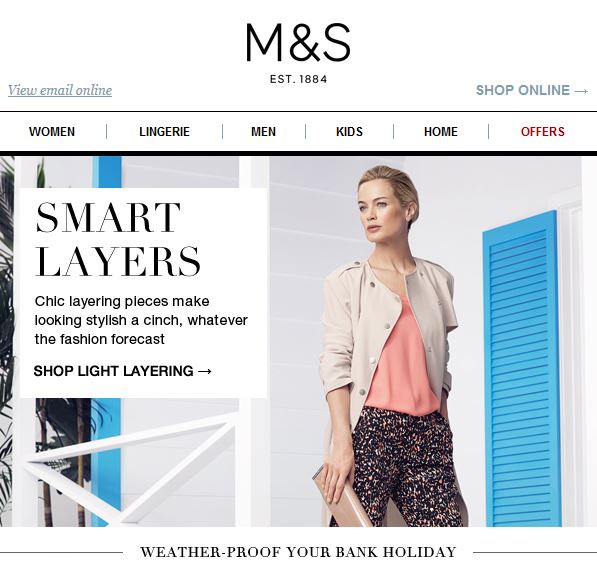 The big get-away
For those of us thinking further afield – remembering the promise we made to ourselves last summer to go somewhere with guaranteed good weather – emails using seductive images can capture our attention and really make us wish we were there.
Add in a clear call to action and discount code and this can be quite compelling if you're sat in the office on a rainy day.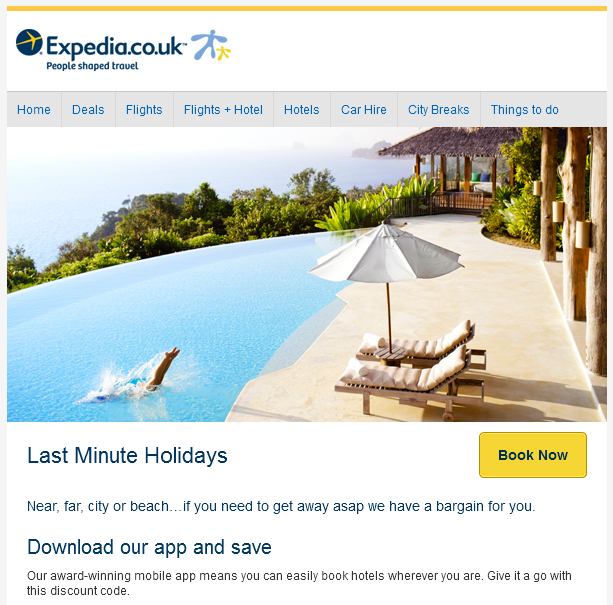 What to wear
Fashion is also an important part of summer holidays, but we're again faced with bulging inboxes of emails showing rows of products and it's easy to become desensitised to this common marketing approach. Putting a twist on your message makes it easier to get your emails noticed. Here, Howies don't show their clothing range but use cartoon animation to pack your suitcase.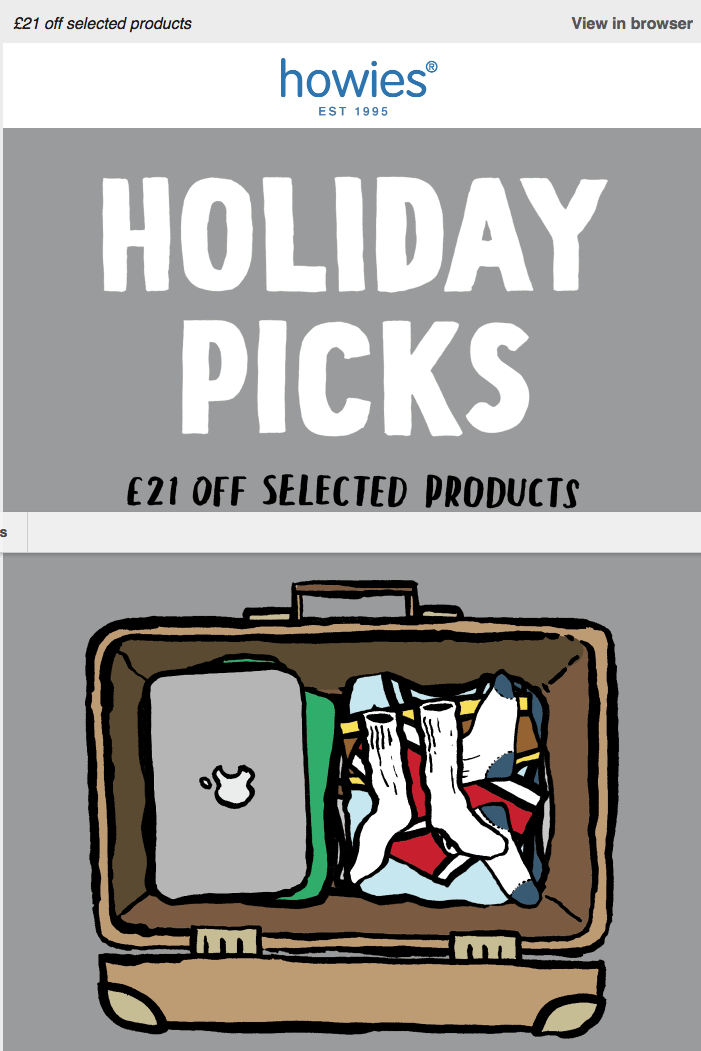 White Stuff have added ideas on style which can work too – we all like to see how clothing fits together with a 'look book' approach. Can't say I'm sure about that shirt though…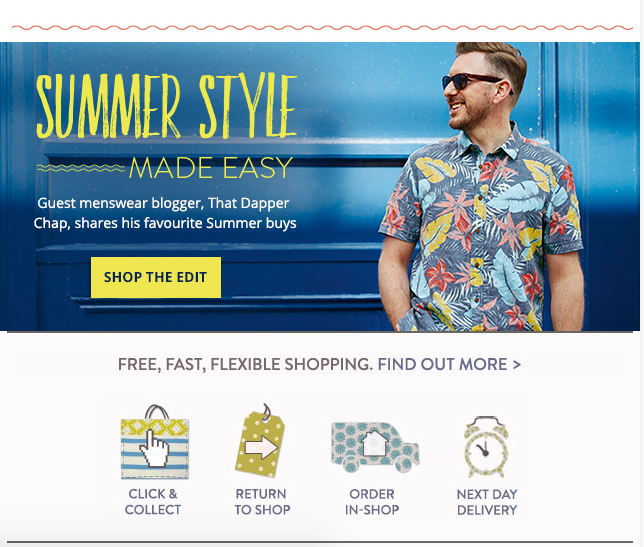 The icons explaining how easy it is to shop at White Stuff are a nice touch too.
A Summer of Sport
Tying seasons in with events can work well too. Richer Sounds 'Summer of Sport' emails have pushed sales of TV and Home Cinema products up significantly as people want to see Euro 2016, Wimbledon, the Olympics and the Tour de France in hi-res on a big screen.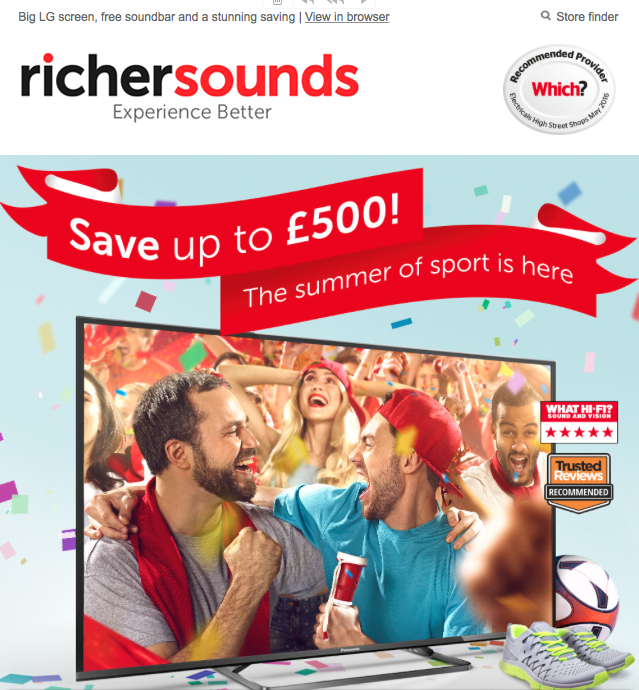 So, don't just add the words 'it's summer' to your emails and list rows of products as you usually would and expect the sales to come flooding in. Work through ideas on how your customers might be thinking about summer (which is probably not far off what you think!) and design emails and messages that are different so they stand out and appeal to our British summer mentality!