Experience shows that many companies struggle with the concept of culling old data as they naturally want as big a pool as possible to target with their email campaigns, which is of course very understandable. However, as data ages there is no denying it becomes old and tired. Addresses may no longer be valid, they may stop engaging altogether and the risk of spam traps sneaking in increases, all of which will do your reputation no favours and may ultimately hurt your chances of delivering to your fresher, more engaged data. It is therefore very advisable to follow a hygiene process and be willing to get rid of old and unengaged data before it starts doing more harm than good. But, before the data gets canned forever, there is one last opportunity to try to entice your genuine prospects back into the mailing pool – a reactivation programme.
Set your boundaries
The first step is to decide what constitutes an active member within your email database. For example, you could say anyone that has opened or clicked on an email within the last year should be active. If they haven't engaged, but have only been subscribed for a year or less they should also be considered active. If you are in the retail sector, taking into account purchasers regardless of engagement with email marketing is another option i.e. they have purchased something within the last year and so are still engaged with your brand even if not necessarily with your current emails.
Then, depending on how long you wish your reactivation programme to run for e.g. 4 weeks, you can take the subset of your database that have the designated period remaining before they will be deemed inactivate and then enter them in to your reactivation programme to have one last crack at pulling them back in. If nothing else, an open will also prove that an address still exists and continuing to send to these emails should not affect deliverability and damage your reputation so they should be safe to add back to the list.
Re-engage and incentivise
Rather than sending your usual message to these soon to be discarded emails, which is obviously not getting their attention, you now have the opportunity to send them something eye-catching to allow them to re-engage with your brand. You could maybe send them on a journey with a series of emails which will continue only if they fail to engage at any point, perhaps reminding them about your brand and making them feel important and missed. Incentivising your emails is a good approach, offering discounts and promotions will always garner interest amongst potential customers and it is worth also spending a bit of time to get your subject lines and Pretext headers right to encourage as many opens as possible. Strategy here is of the utmost importance.
But, does it work?
So, how effective can a reactivation programme really be for data that has not engaged in nearly a year? Well, let's look at some results for a current reactivation programme which uses a series of 3 emails to try to re-engage users over a 6-week period:
Email 1: "We Miss You" message with a discount
Email 2: Change your subscription frequency via a preference centre rather than unsubscribe
Email 3: Ask people specifically if they wish to stay on the mailing list
Here are the results for 2016:

Taking the stats for the distinct emails sent:

Not all the emails have finished their cycle but, just for 2016, a total of 2,675 emails have been added back into the mailing pool newly engaged, and on top of that 188 sales were also made which may not have been were it not for the reactivation programme, so an added bonus there.
Reactivation Message Type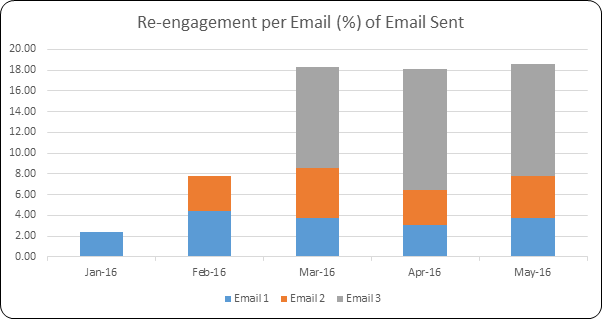 Looking at 2016 we can see Emails 1 and 2 are very similar managing a 3-5% re-engagement with their messages. Email 3, specifically asking if people wish to remain on the mailing list, received a much higher level of re-engagement at 9-12%.
Looking at the sales, Email 1, with the initial incentive, produced the majority of the sales with Email 3 the least in this example. Knowing what you are trying to achieve with your messages is crucial as you can see in this case some encouraged engagement whilst others actual sales so formulating a strategy that suits your style of marketing and finds a balance between the two would make for the best re-activation programme.
So, instead of just discarding your old data, see it more as an opportunity to re-engage with your tired users by giving them a fresh, incentivised message and you'll find you may well encourage some of them to stick around that little bit longer.