When it comes to sending marketing emails, it's still common practice to send manual batched campaigns where the same message is sent to the same people. The smarter marketers are sending more targeted emails to segmented lists based on information such as purchase history, previous email interaction and demographics but there'a a wealth of more subtle information available to really take your email marketing to the next level.
Executed well the use of behavioural data and the subsequent generation of emails triggered by certain actions and events can improve customer retention rates as well as increase acquisition levels. When you send an email blast to a large list, you are guessing the message might resonate with the recipients. But when you let customers trigger emails at strategic places in the purchasing cycle, you have a much greater chance they will make a purchase.
Think of this car salesman's lot as your website:
"A customer says they're not ready to buy a car. Let's go over it again. They're at a car dealership. They got in their car, drove through hell to get here, looked for a parking spot for ten minutes, parked, got out of the car and walked into a car dealer. Not because the coffee's good, we went over this, because the coffee here's not good. They came here because we sell cars and they want to buy one."
According to Econsultancy, only 20% of marketers currently implement behavioural email marketing based on web activity, with 39% planning to do so (meaning, of course, that 41% of marketers have no plans to use it in the near future).
As recipients of marketing messages and advertising, our expectations of the type of content we see and when we see it is changing. We are becoming used to marketing that is tailored to what we view on the web, particularly in search engines and social media sites but increasingly on pages across the web. So when we receive emails in the middle of the night with content and sales offers that aren't specific to us we start to tune out and ignore them.
Behavioural targeting affords marketers the chance to change that and the best news is that the information is 'free' – it can be gathered every time someone visits your website, opens and clicks on an email or interacts with your brand socially. No-one needs complete a form or survey, in fact how people behave is more indicative of what they like than what they may tell you anyway!
The technology is out there – a good email system will integrate with a CRM system and should also provide functionality for data management, dynamic content, behavioural retargeting, social integration; testing and optimisation.
Including <First_name> in your emails is not personalisation. Real personalisation is sending one-to-one emails – a unique email for each user with a unique message and call to action.
Craft your strategy around key moments in the browsing and buying process and approach each email from a perspective of being as helpful as possible within that moment.
Amazon do this a lot (sometimes a little too much!) – here's one I received recently: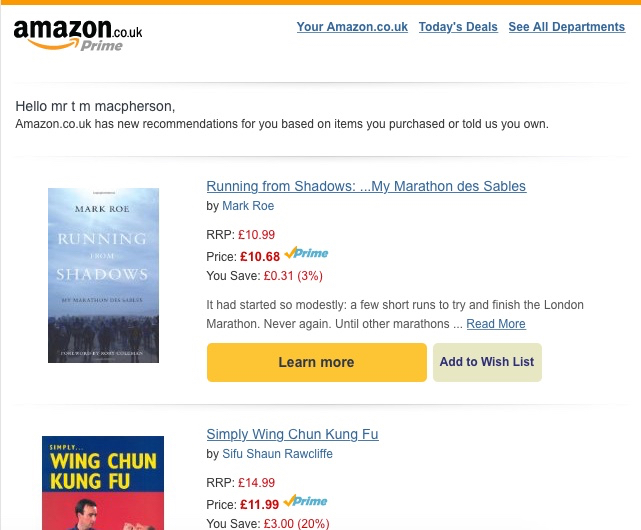 The first offer is from a recent browse, I plan on running the Marathon des Sables and will want to read up on the race and some accounts of people who have done it, so I will be buying at least one book about it – possibly this one and probably from Amazon. The second offer is based on something I looked at some time ago, I haven't practice Wing Chun for years but still have an interest so it got me thinking about taking it up again! What I am unlikely to do though is to not look at these emails or unsubscribe.
Another approach is a reminder email with a friendly upsell: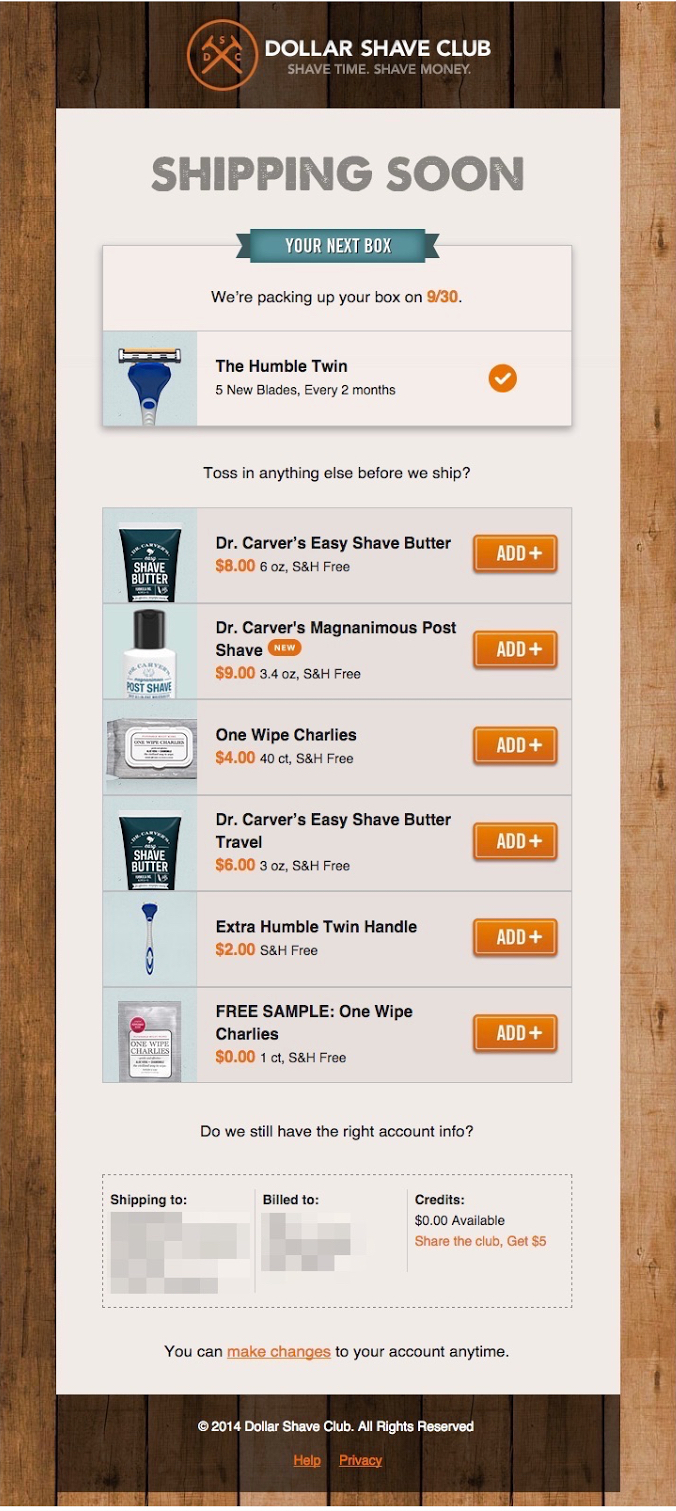 This isn't one of mine, as much as I like the email I don't like it enough to order my shaving supplies from the US!
This email works as it's triggered six days before the order is despatched. It's a reminder it's coming and that there are lots of others things you can add on, not pushed at you but asked if you'd like anything else 'tossed in' with your original order. The approach and choice of language means the upsell is not offensive (see more on 'tone of voice' here).
If you're not already using peoples behaviour to generate timely targeted emails then it's time to start. You don't need to put an all singing and dancing solution in place on day one, start with a single email – even a manual campaign sent once a month as a reminder of what your customers have looked at or bought is likely to work and should be pretty easy to set up using the dynamic content functionality in your email broadcast platform.
In a busy world full of digital distraction, we all appreciate well timed and relevant offers – and that should be good for business.