Many businesses are still creating online marketing collateral that comes across as rigid and impersonal. It often mirrors more traditional offline advertisements and brochure formats. Whether the excuse is 'we've always done it this way', fear of brand perception or just plain lack of imagination, adopting a so called 'professional' approach and conforming to old school thinking no longer fits with the new user of the Web. Of course, certain business sectors allow for more flexibility than others but, generally, there is scope to increase the appeal of marketing messages using a more conversational approach.
TV advertising has been doing this for years. Why? Because you can see people in situations where anything other than interaction and behaviour we can relate to as people would look out of place. In fact, many TV advertisements lean towards extreme situations to create dynamism so human interaction and the colloquial approach also becomes more pronounced.
The way people communicate on the Web now is much the same as if they were there in person.
I've seen it all before
When it comes to marketing emails, many have a generic tone and present stock images in a uniform layout in the hope people will spend time looking at them and click on something. As marketers, we need to get over the fear that we might misrepresent our brand by adopting of a more 'everyday living' approach. By sticking to the script we run the risk of coming across as robotic and detached and our message becomes less appealing leading to diminished interaction. We all know that attention spans are shortening and are fragmented across multiple channels and devices so it's becoming critical to engage people as quickly as possible with a more friendly approach.
The ubiquity of the Web and the increase in hours we spend on it is driving this change in communication styles, making the 'corporate speak' approach to online marketing feel increasingly out of place and outdated. And it's not just the tone of the email – the design, imagery and layout of emails needs a rethink – both in terms of overall appeal and how they should be designed to work with mobile devices.
By the book
If you don't have one, create a 'copywriting brand-style bible' with guidelines on customer profile (helps to know who we're talking to), tone of voice, language and style, including words that encapsulate your brand identity – and ones that don't. You can even go one step further and include examples of brands that have a tone of voice and brand identity you like, as well as examples of those you're not so keen on.
I know you
Ensure the brand message remains consistent so as not to risk confusing or even alienating customers. All emails – newsletters, sales, order confirmations, delivery notifications, follow-ups etc. should tie in. This is all part of making the customer journey as pleasant and as smooth as possible.
Howies, Innocent and White Stuff all send emails that are easy to read: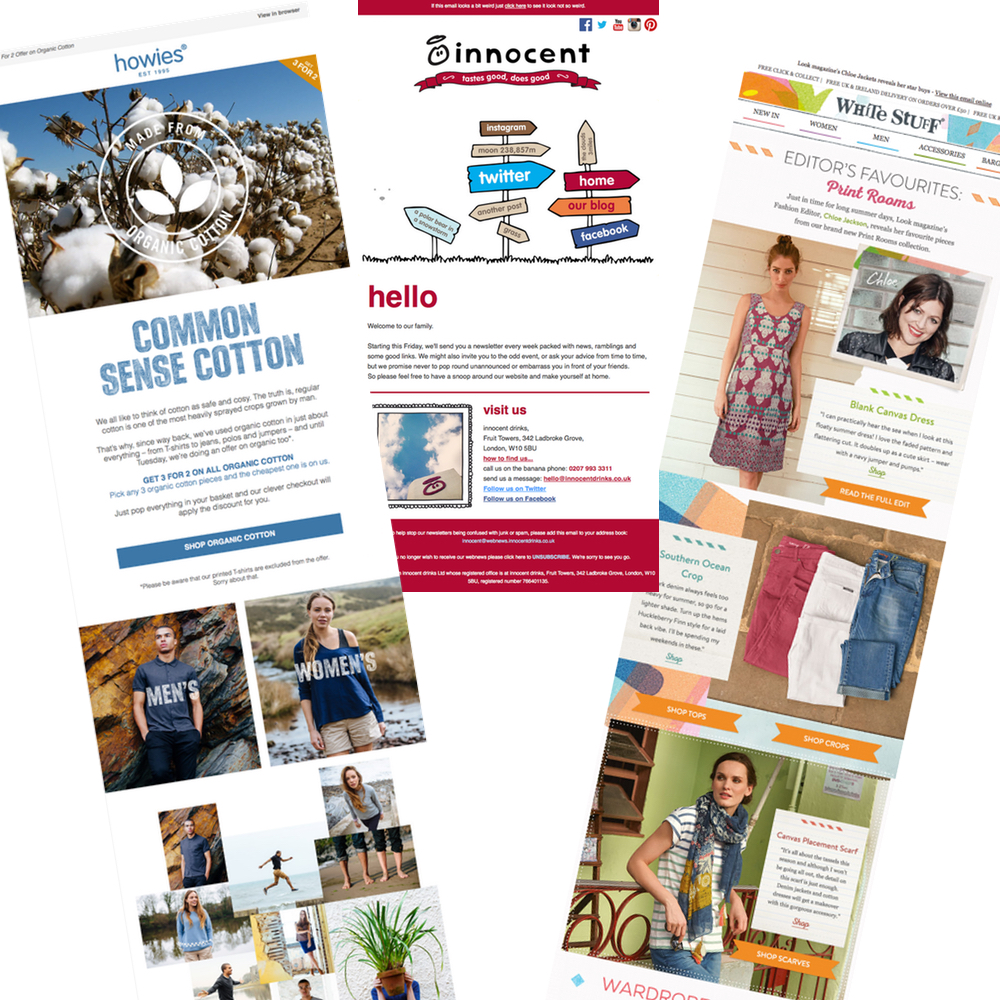 And you don't have to be a small or 'funky' brand to be friendly, Ocado adopt this approach, starting with their registration page with quick and easy sign up process that also engenders trust: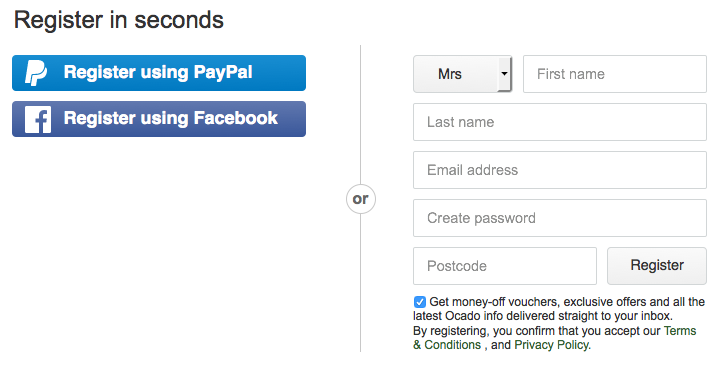 The confirmation page continues the feeling:


…and the welcome email is designed to encourage your initial purchase, with the clear instructions on what to do next, a tool to import your favourite items from another supermarket and a link to download the Ocado app.



As the use of the Web becomes ever more conversational and integral to our daily lives, online marketing should be designed to reflect this. A like-minded approach allied to effective data segmentation and targeted content means people are likely to feel more comfortable and trusting when interacting with brands and not see them as faceless entities out to make a quick buck.
This can be a scary prospect for some brands and marketers but the beauty of email is that it is quick, easy and cost effective to test. Sending to small data segments to gauge how well messages are received and, more importantly, how well they perform will give marketers the data they need to get closer to customers.
The likleyhood of any of us being offended by a brand being more approachable is remote, in fact most of us prefer it. We're all human, so why communicate with us like we're not?