Richer Sounds is no normal retailer. Walk into any of their stores nationwide and you'll be greeted with unparalleled expertise in audio and visual entertainment technology. The brand is not about the indiscriminate sale of goods on a mass scale – it's about a passion for the product and friendly one-to-one service. Whether the customer needs a new pair of headphones or is thinking about a full-blown home cinema installation.
This isn't just us saying nice things about our longest-running client. Pick a Richer Sounds branch of your choice and you'll find consistently outstanding reviews. But their spirit of service isn't only to be found in-store. Replete with customised content and insightful editorial, it extends to their website and – you guessed it – email marketing.
What was needed
Richer Sounds needed an email marketing specialist who could turn their vision into digital reality.
A complete email marketing package was required. That meant the production and distribution of content-packed, richly-designed mailings. It meant a custom-built email platform and the sophisticated data processes to power it. And it meant in-depth reporting and analysis and the strategic insight to learn from it. In short, it meant a lot of work!
display block's team of email experts (and their industry-leading email software) were up for the challenge.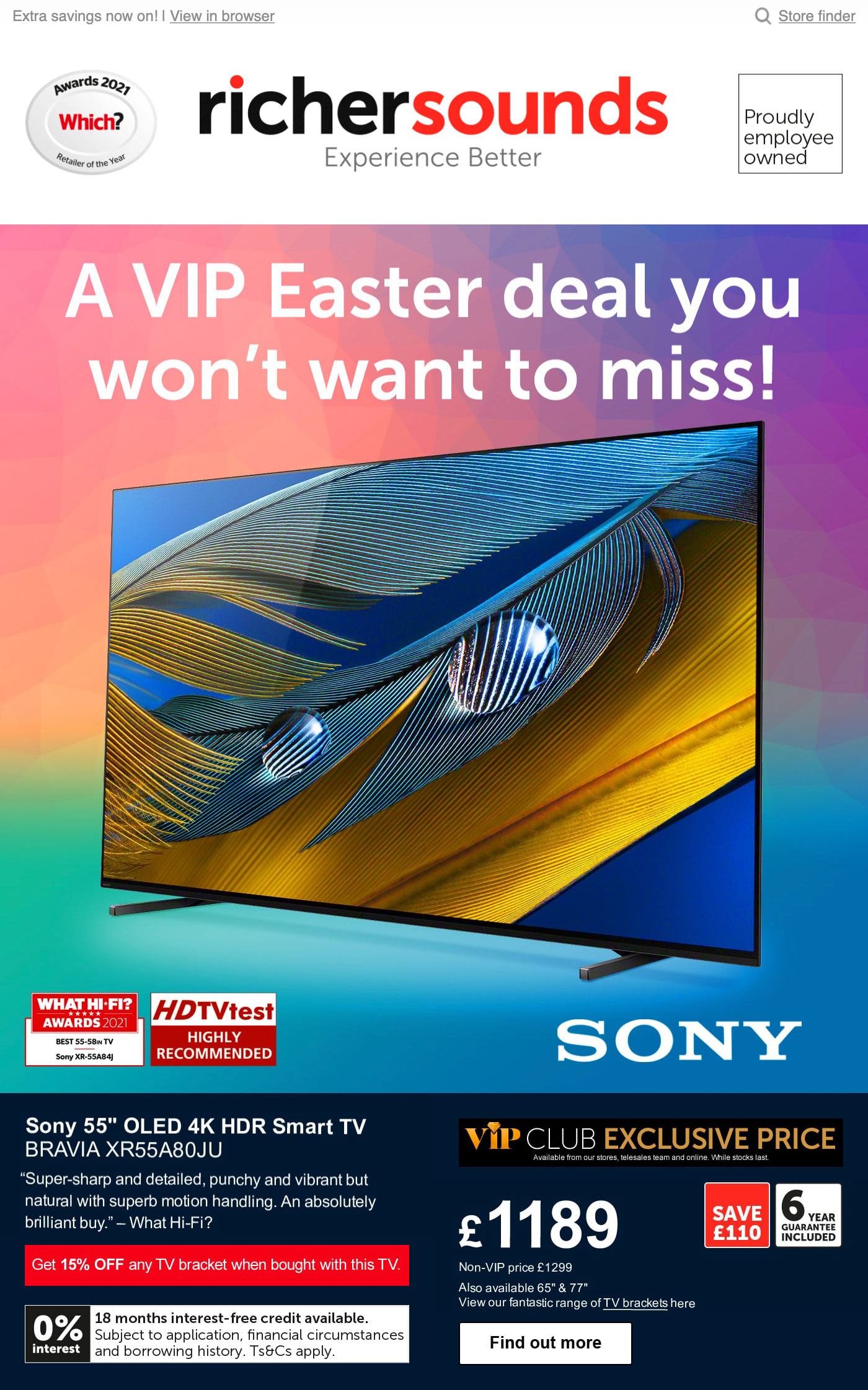 What was done
Where to begin? Email-coding, back-end data wizardry, design & best practice consultation, engagement reports – if an email marketing activity exists, we've probably worked on it with Richer Sounds! Let's take a closer look at some key activities.
Email coding
The designers at Richer Sounds tirelessly produce fresh designs day in, day out. It's our job at display block to turn these into functional emails. The conversion of heavy Photoshop files to inbox-ready mailings – in retail-friendly time – is not a task to be taken lightly. It's a process that calls for a professional software suite, hand-coding prowess, a custom code library… and the fast hardware to run it on.
Personalised content
The days of spray-and-pray in email marketing are long gone (or at least ought to be). Richer Sounds care about showing customers only what they want to see, and as such were early adopters of targeted content. And what's the best way to achieve that? Answer: a preference centre.
AI-optimised content and machine learning are fantastic modern technologies, but there's only one person who truly knows a customer: themself. We created a preference centre – essentially a convenient online form – to put the customer in control. It allows people to choose not only what types of content to hear about, but also how often. Seamlessly connected to our data server and email platform, it forms the root of a complex system of personalisation.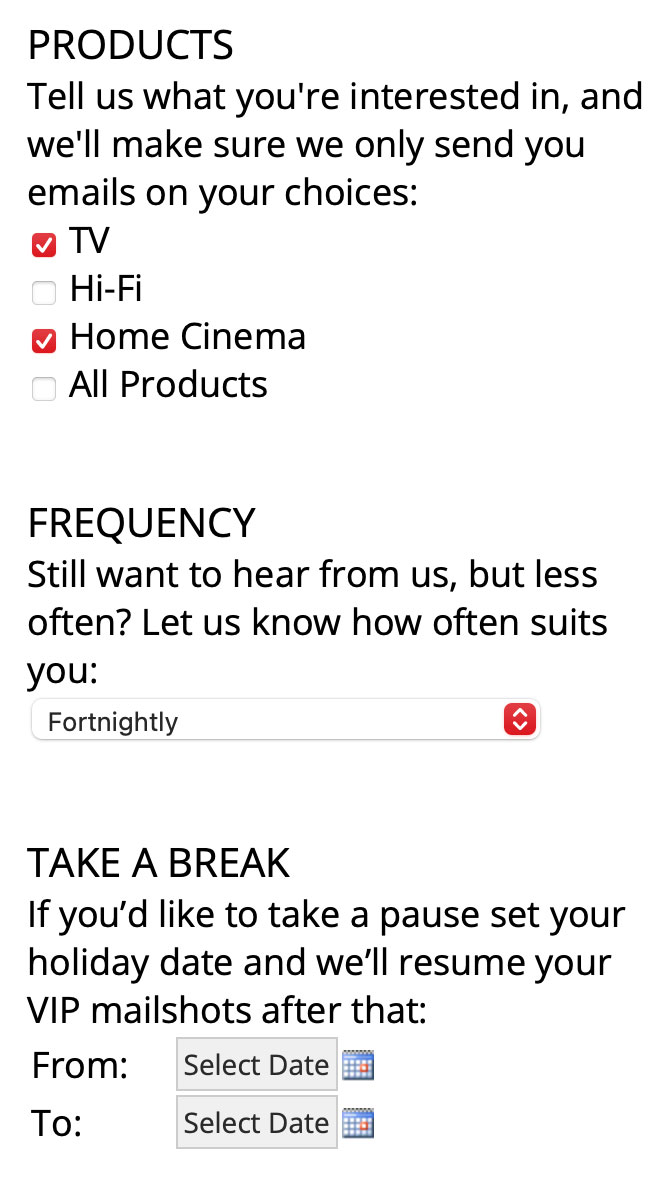 Here's where it gets really clever. This tailored content does not end with the email. Our API ensures that users continue to see relevant content while logged in to the Richer Sounds website. Showing the right products to the right people, all the time.
Integral to Richer Sounds emails is a message from each customer's local store manager. It's a personal touch, albeit one made possible by some careful dynamic coding. Customers move, local events vary, and managers change. Truthfully the last part doesn't happen all that often! It speaks volumes that Richer Sounds managers tend to stick around, and it's why a years-of-service figure is calculated for inclusion in the message.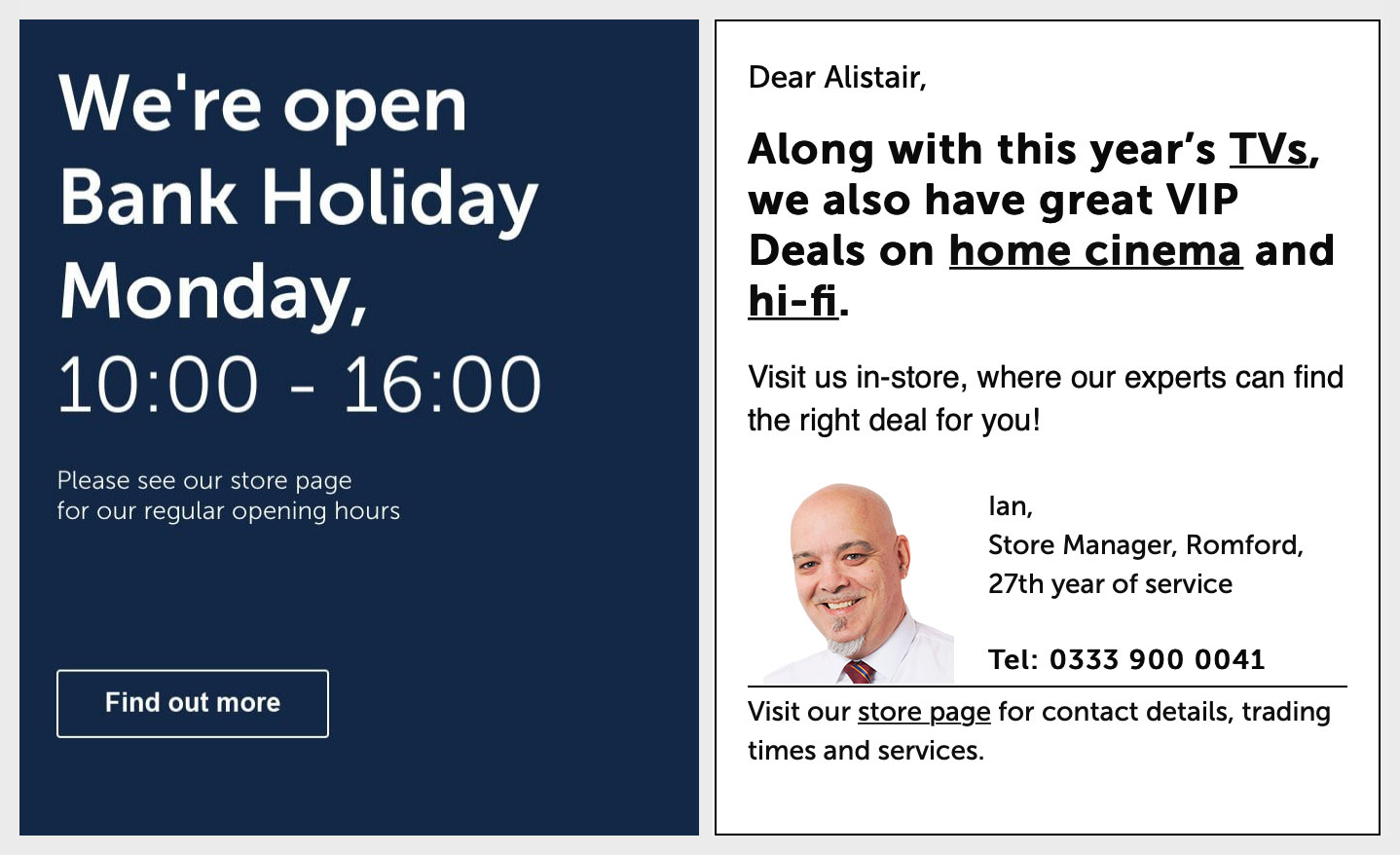 Data processing
Email marketing, believe it or not, isn't all glamour! Behind the slick designs and snazzy landing pages exists a complex web of databases, servers, interlinked software and automated data procedures.
Sign-ups from in-store and online are captured and processed. Welcome emails are sent automatically and represent a digital hello – just like the reception you'll receive upon walking into a Richer Sounds store. Retargeting emails encourage non-engagers who might have missed an offer. Unique voucher codes are generated and dropped into relevant emails.
All in all, there are a lot of moving parts. Complex however does not equate to messy. All of the pieces are managed and organised by our data gurus, ready to adapt to all eventualities. Phew!
Reporting and strategy
At display block we are not content to send an email, put our feet up and call it job done. We want to know what worked, and why.
We extract a complete set of data is from every email. It is then processed through our SQL scripts, and converted into a comprehensive report. This is accompanied by a heatmap – an at-a-glance visualisation of clicks across a mailing.
Reports are nothing without analysis and intepretation. That's why we meet in-person with Richer Sounds for a regular strategic discussions. It's an opportunity to throw ideas together and chat about the latest email trends, and help to shape the email programme for the year ahead. After all, our clients' success means our success.
What was the result
display block and Richer Sounds have been working together since 2008. That's a long, long time in the world of technology. Together we've seen email develop significantly as a medium. The two companies have worked side-by-side to ensure that Richer Sounds digital marketing doesn't just keep up with the latest developments, but harnesses their full potential.
Here's a perfect example. Upon the advent of responsive email – a game-changing event in the industry – we guided our client through the transition from static to fluid mailings. On top of the technical challenges, that meant a whole new world of terminology and design considerations. The result: a robust template that renders beautifully on all devices while retaining the brand's original character.
Similarly, we were there to help with auto emails, dynamic content, Gmail truncation, AI-driven product recommendations, designing for dark mode… the list goes on. As the technology changes, Richer Sounds marketing evolves with it.
"display block are email marketing heavyweights. Not only are they available whenever we need their services, they always keep us up to date with best practise and give us insights into how we can further improve. We love working with them!"
– Ricky Downs – Senior Designer
Richer Sounds

What this means for you
If you're looking for an all-in-one email marketing provider, we can help. If you have big ambitions for a large-scale email marketing programme, we have the people and platform to handle it.
Just like Richer Sounds, we too are committed to providing a level of service that goes beyond the norm. As such display block is not a nine-to-five affair. We understand the value of round-the-clock availability. And if that means staying up until the small hours to make last-minute edits to Boxing Day sale emails, so be it!