NET-A-PORTER stands at the vanguard of fashion. The brand is synonymous with prestige and innovation, retailing cutting-edge products by the industry's most celebrated designers.
In addition to a global website, NET-A-PORTER boasts a sophisticated mobile app… and world-class email marketing.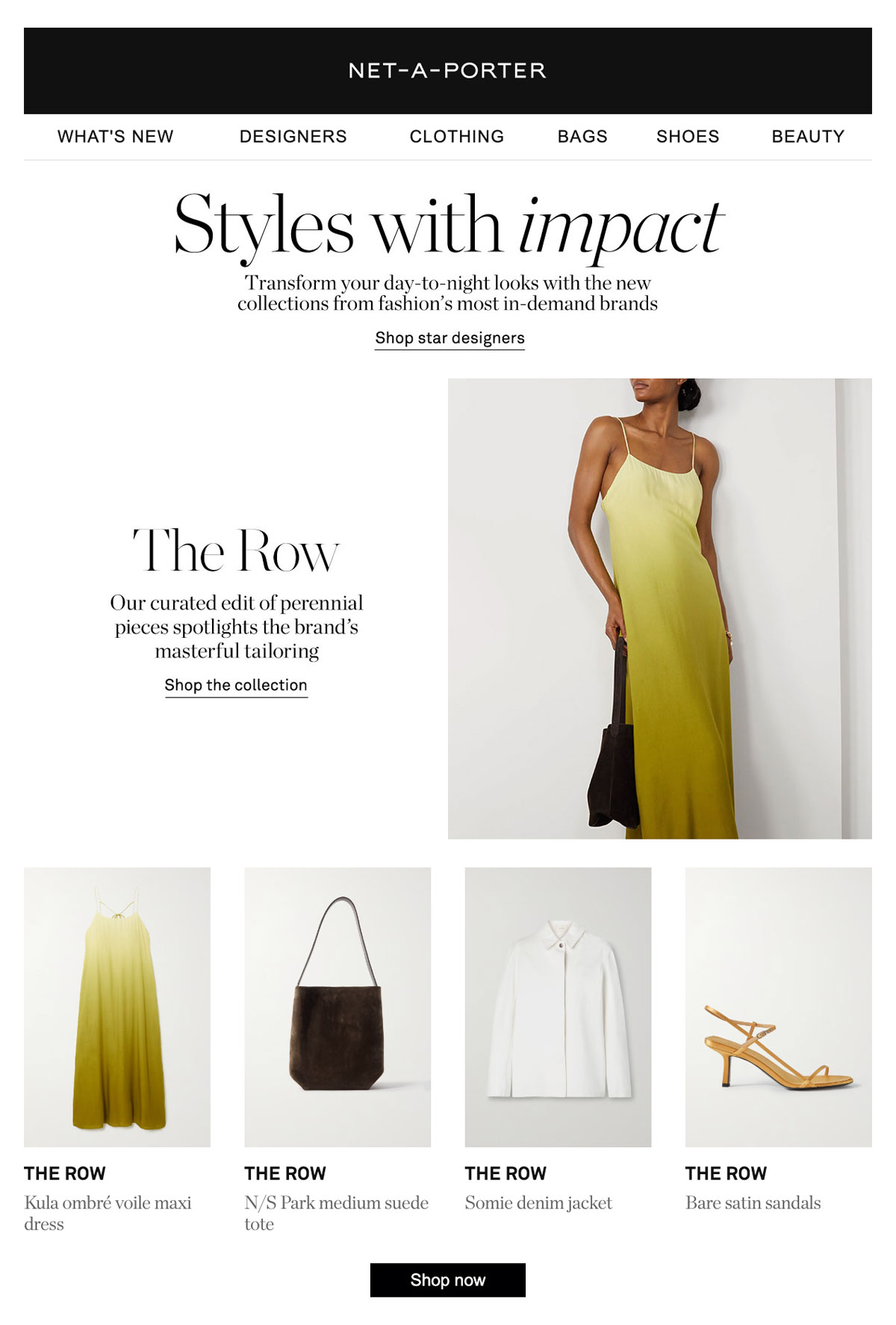 What was needed
With a talented in-house team and a complex CRM programme already in place, NET-A-PORTER were no rookies at email marketing. But to send a high volume of multi-lingual, multi-version emails is an intense undertaking. Staff started to feel the strain as email activities continued to grow.
They needed a production powerhouse with which to share the heavy workload. That's where display block came in.
What was done
We got stuck in! A member of our development team visited NET-A-PORTER's (rather lush) London office for three days of in-depth training. After that we were ready to hit the ground running.
To ensure a rock-solid level of support, display block hired and trained additional members of staff. Effectively we operated not so much as an external agency but more as an extension of NET-A-PORTER's in-house team.
Working remotely and contactable at all hours, display block provided an uninstrusive but dependable service. Aware of the often topsy-turvy nature of retail, we absorbed changes from various departments – from design to marketing to merchandising – while sticking to those all-important deadlines.
At display block, we pride ourselves on speed and accuracy. To err is human, of course. That's why we took the time to develop a bespoke code library and an assortment of production tools:
No more manual tracking of links – our tracker processes them in an instant.
No more painstaking extraction of information from briefs – our applications recognise and process key elements automatically.
And no more copy-and-paste approach to email development – our extensive library of custom code snippets make it possible to hand-code any email in minutes.
We even injected some code via the browser to enhance the functionality of NET-A-PORTER's chosen email platform. Goodbye human error, hello machine efficiency.
Staff come and go in any workplace, often taking important knowledge with them. At display block we understand the value of documentation. By recording all processes and projects in black and white we ensured consistency and technical understanding – internally and externally.
What was the result
Increased productivity bringeth increased results. NET-A-PORTER's volume of emails jumped by 35%. That in turn aided a 20% lift in share of voice in the industry. And best of all, it lead to channel* revenue of 4% over target. (* that's email and push notifications – yes, we do that too!) But this isn't only a numbers game. With display block ultimately handling the bulk of email production, NET-A-PORTER were given breathing space. That bought time to think about improvements and enhancements.
On that topic: at display block we don't only code fast… we code at the highest expert level. Putting this skill into action, we re-developed an old but crucial tri-weekly NET-A-PORTER email. That's a tricky undertaking for a mailing comprised of dozens of modules in various languages! But an important one – gone was the bloated code of old, replaced with an email that renders perfectly. Result!
Responsive email is one thing but experimental interactivity is quite another. In order to spice up their mailing designs, NET-A-PORTER proposed a product carousel. display block set about this challenge with three main objectives in mind:
Code it to slot seamlessly into NET-A-PORTER's existing template and coding style.
Share the same content between all devices. There was no clunky duplication of products – instead everything was neatly reshaped depending on the capabilities of the customer's device or email service.
Keep the additional code to a minimum. The end result was barely five kilobytes beyond the static original!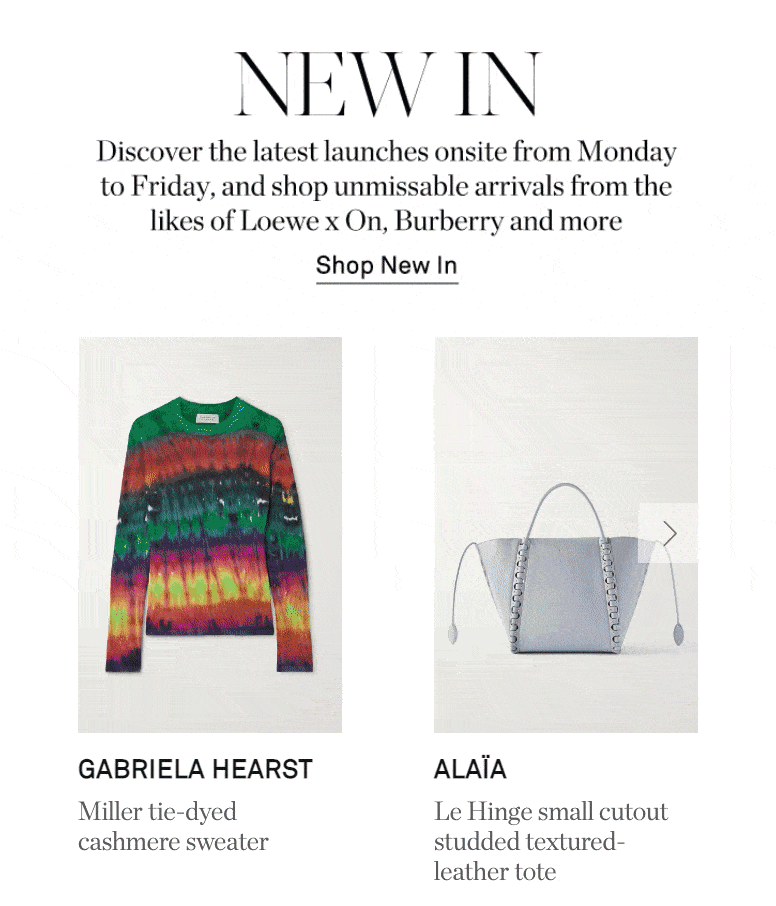 As our expertise in NET-A-PORTER's setup and platform grew, so too did our ability to help across a range of subjects. Email design considerations, re-templating, dynamic content, data processing – whatever the problem, we would strive to find a solution.
All in all, this was proving to be a successful partnership. So much so, that NET-A-PORTER's sister brands – THE OUTNET and MR PORTER – wanted in on the action. The team of email developers at display block had the capacity to take on full-time work for all three brands.
"display block has been fundamental in driving CRM growth for our business. Their dedicated in-house team of experts are fantastic at last-minute changes, but also their expertise, HTML/CSS coding support, and time management has really helped our business grow."
– Latoya Lambert, Head of Strategic Planning (CRM)
What this means for you
At display block, we don't do one-size-fits-all. We code, we design, we advise. We have an email platform of our own. We have a state-of-the-art yet reassuringly reliable email template. In short, we can do it all for you.
But sometimes that isn't what's needed. Sometimes you just need a helping hand. Our team is adaptable… whatever your current setup and software. If you're feeling the weight, we're ready to jump in.