display block began working with The Hotel Collection after their incumbent email service provider could not help improve their email marketing and communications beyond the 'send an email once a week to your list' advice.
Our first task was a comprehensive review of their email creative, including visual, usability and coding quality, We continued with an analysis of their email database and an historical look at email performance, finally looking at the development of an appropriate strategy for email activity going forward.
Email creative design review
The emails being sent were dark with a heavy look and feel, exacerbated by a flock-style wallpaper background, giving the impression of stuffy hotels aimed at an older, more staid clientele.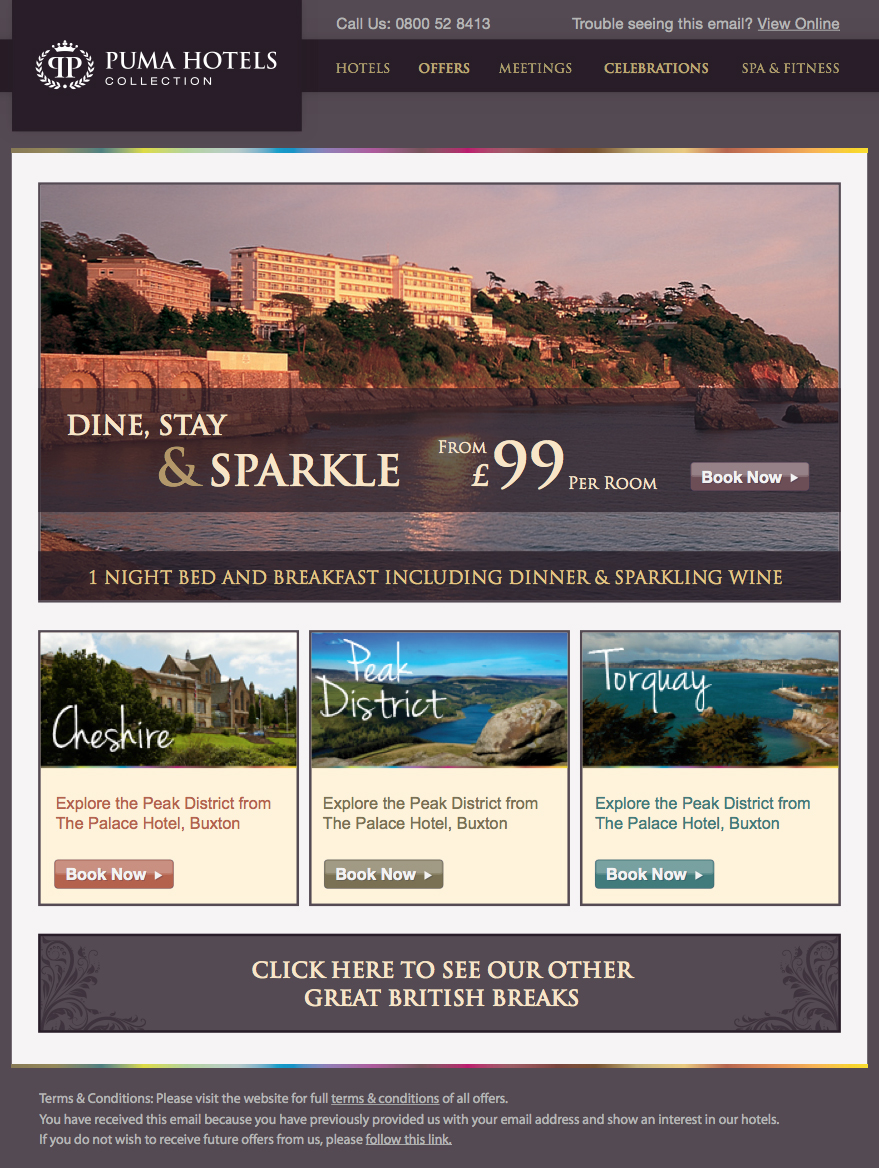 Our design studio worked with the marketing team to create a cleaner, brighter design with a modern feel. It was also designed with mobile email in mind from the ground up so was built to be responsive from a visual perspective as well as from a coding one.


Template library
Once the new design was approved, a series of templates was built so emails could have different layouts, lengths and flexibility over the size and placement of images and other content.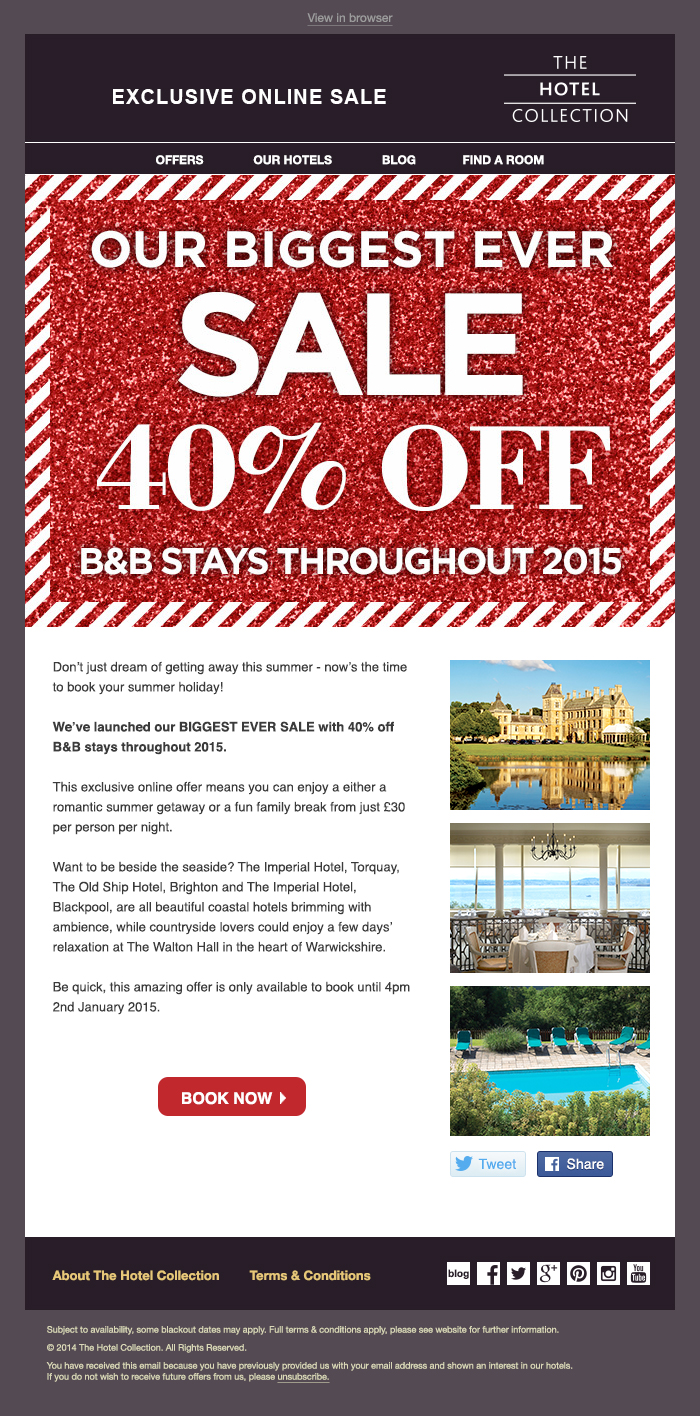 Triggered emails
Part of our strategy was to use automation for selected emails. We began with a welcome email, designing a simple but informative template. Our technical team began working with the incumbent CRM company to develop a bespoke two-way communication interface which allowed emails to be triggered based on rules determined by The Hotel Collection. These included pre and post stay emails with targeted cross and up sell sections based on the booking. We also designed and built a complex booking confirmation email which was fully dynamic, enabling it to display all of the unique booking information as well as images and content about the Hotel.
Email and social assets
Our studio designed and built image assets for use in emails and for the social sites The Hotel Collection have a presence on. These included animations for events, such as Halloween and Christmas as well as a six week Summer competition programme.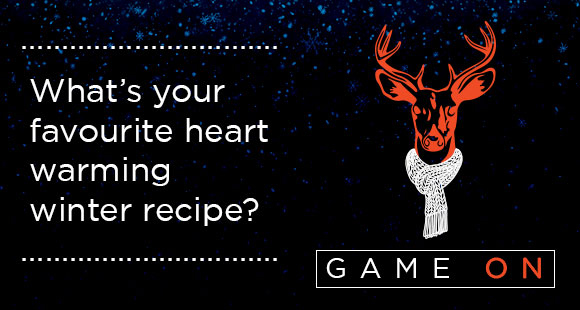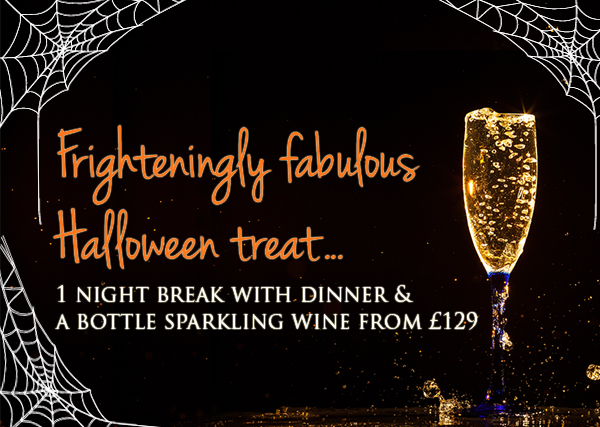 Sale emails
The Hotel Collection have two major sales each year which are important revenue drivers. We managed the campaign send of a sequence of four emails, using two responsive template designs, over seven days, monitoring email delivery and changing send speeds where appropriate. The resulting revenues from the first sale we managed were the highest The Hotel Collection had experienced from the email channel.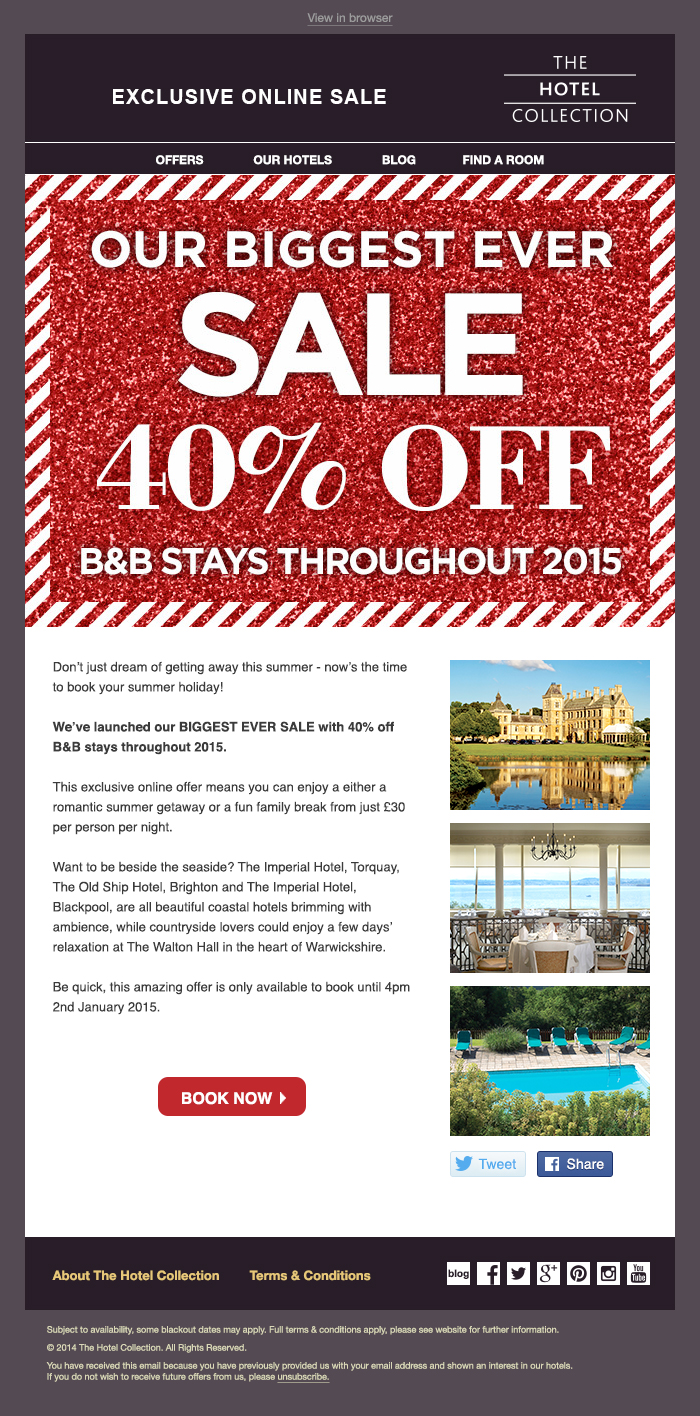 Corporate
MEET at The Hotel Collection is the division which caters for business functions. A completely new email design was required to reflect the different branding and approach and, again, our design studio worked with the marketing team to build a straightforward and consistent set of templates with a balance of enough information, engaging content and calls to action.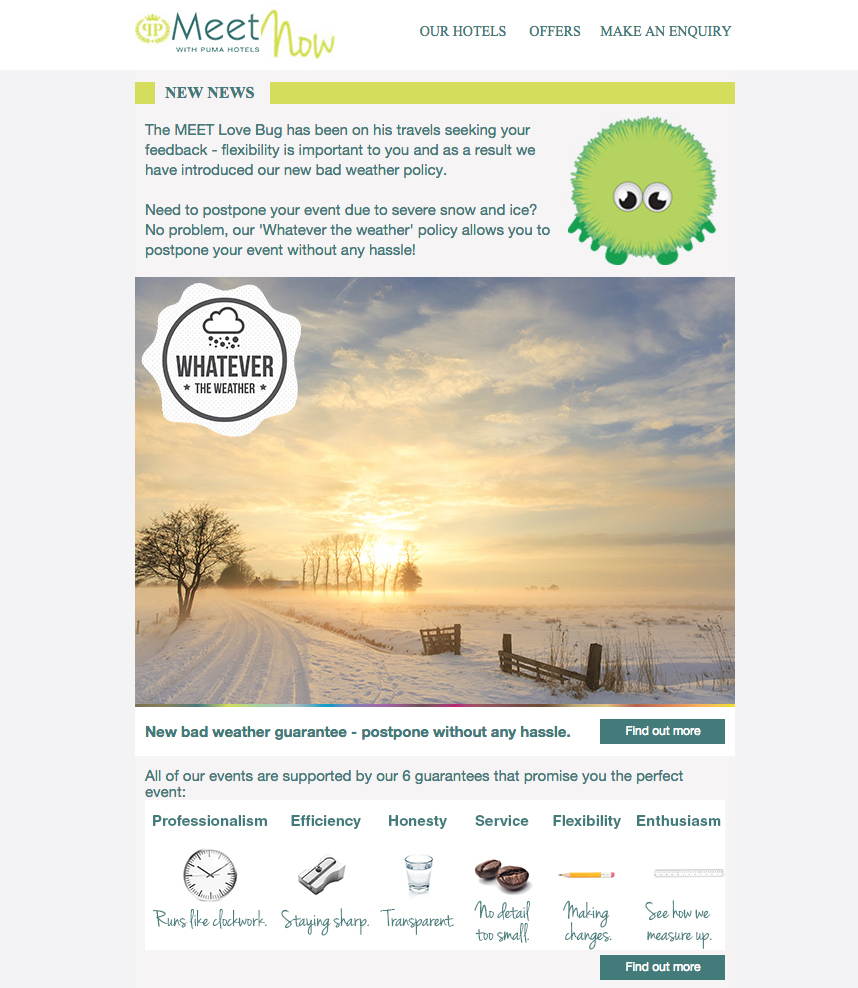 Testing plan
Another are we wanted to work on was campaign testing. We began with subject lines and basic personalisation, followed by data segmentation by geography and customer type, overlaying this with different content and offers. Email open rates increases ranged between 25% to more than double and clicks between four and seven times higher.
Re-branding
The change from Puma Hotels to The Hotel Collection required that all email templates, images and other assets were updated. Whilst the overall look and feel of the templates and other assets remained the same, many details were different requiring multiple design variants for comparison and testing.
Revenue reporting
display block analysed and plotted email revenues by individual email and linked this to email response rates, content, offer and target group to build an understanding to what was working, when and why.
The future
The detailed understanding of what drives emails revenue, along with the testing programme, provides insight for campaign planning and fine tuning of the overall email strategy. Weekly and monthly reports are created along with regular reviews and we are now working a season ahead in terms of campaign content and planning.