There are a few ways to build up a database – you can encourage people to sign up via your website or in-store, you can collect addresses through industry trade shows and exhibitions or you could even obtain data from list rental companies for people that have indicated they are willing to receive third party emails. We've actually tried all three methods over the years which gives us the perfect opportunity to find out which of these methods is likely to yield the best results to help shape future email marketing strategies.
Database Retention
So, one key identifier toward the quality of each data source is the database retention i.e. what percentage of the database is still active for mailing:
| | | | |
| --- | --- | --- | --- |
| | List Rental Data | Trade Show Data | Website Subscribes |
| Subscribed (%) | 63.233 | 64.008 | 88.624 |
| Suppressed (%) | 36.767 | 35.992 | 11.376 |
Looking at our own records we can see that well over a third of the data has been suppressed (whether it be from bouncing, unsubscribes or complaints) for the list rental data, slightly less for emails collected at trade shows, but a significantly smaller percentage for the website subscribers at just over 11%. Quite a telling statistic that.
Quality Street
Now let's have a little look at what actually caused an email to be taken off each list to see if there are any more patterns to be revealed: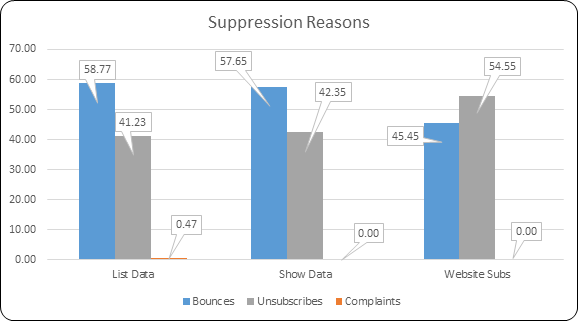 List data and trade show data are very similar with over half of their suppressions actually coming from hard bounces which suggests the quality of the data from an email hygiene perspective is worse than that of the website subscribers with perhaps more data either being particularly old and thus email accounts being abandoned, or the email address not being accurate in the first place. List data is also the only source which produced suppressions via complaints, so again this tells us that list data may be the least amenable to receiving emails from a previously unknown sender.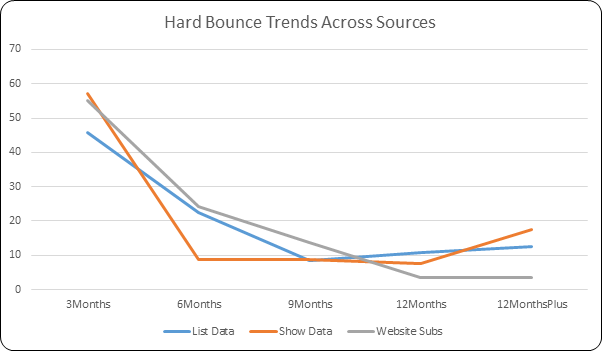 Looking at the trends for how long it takes for an email to be suppressed through a hard bounce the majority of the data across all trends goes within the first 3 months (most likely the initial send reveals an invalid email), but where both the list data and trade show data show a levelling out trend followed by an increase in hard bounces for those subscribed over a year, the website subscribers have simply trended downwards indicating that those organically gained emails stay valid for longer.
Engagement
Now possibly the most important statistic – which source performs better from an engagement perspective: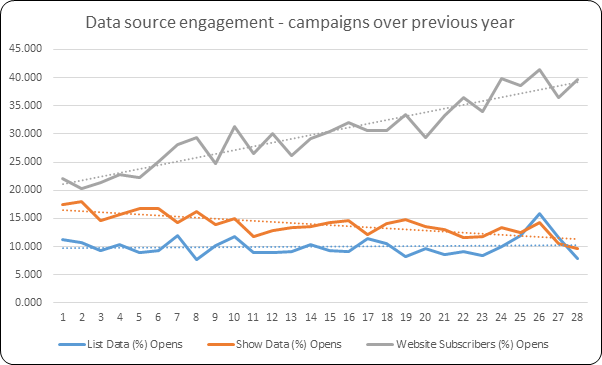 So there you have it – looking at the percentage of each data source engaging the website subscribers have outperformed the list and show data over the past year and are in fact becoming more engaged the longer they stay in the database, with the opposite happening for the other two. So, with an organically grown database not only is it cleaner with less invalid addresses and a lower unsubscribe rate but it is also much more engaged than data obtained through other methods. That's not to say you cannot supplement your overall database resource with such other sources as list data or trade show data to increase volume, but if you want to get the best results then attracting people to sign up directly to your newsletter (online or even possible in-store if that is an option) is clearly the best way to go.