Having recently spent some time looking into the unsubscribe process and how best to optimise it (read here if you've missed it), I thought it would be worth looking at the other side (and the very first step) of the relationship: the welcome.
It probably goes without saying, but getting new subscribers is crucial in keeping your database fresh and conversions coming in because newer customers are far more engaged and are therefore more likely to purchase. So, it's essential to make the most of the sign up process and subsequent user journey.
I selected 25 of America's top retailers and signed-up to their email marketing to observe what these brands are doing in this area. I've gone through the basic elements of any welcome programme below, along with some interesting stats I discovered along the way.
Welcome email
The welcome email is your initial contact with your new customer and as with a first date it's essential to make a good first impression. Make sure your email copy is friendly and inviting and clearly sets out what the customer can expect. This is a great opportunity to invite subscribers to add your address to their safe senders list. Surprisingly only 56% of the brands I signed up to sent an automated welcome email within a 3 hour period of registration.
Sign-up form
Many retailers prefer to keep this simple, requiring just an email address to get on the list, often followed up with an additional form where the customer can optionally provide more information, most commonly the post or zip code and gender (in the case of fashion retailers). Other retailers require full postal address and telephone number just to sign-up, which may help build a better profile on the customer, but is sure to turn off some customers.
Another interesting trend I noticed is optional additional newsletter sign-ups for other retailers in the group, like in this example from Abercrombie & Fitch. It's a quick and clever way to increase the interest in other stores in the group and help boost the subscriber numbers too.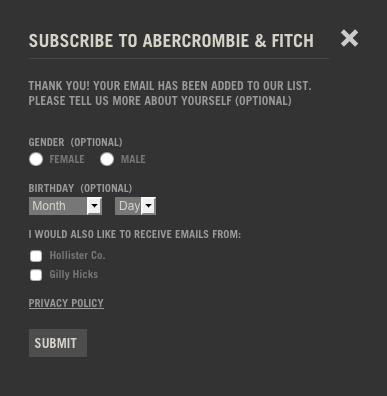 Incentives
Speak to any economist and they'll tell you that incentives are really the key to getting anyone to do anything. If you want to have more productive staff, pay more. If you want to discourage bad behaviour in your kids, fine them. If you want to sell more products, discount. Giving your customers an incentive to be on your list, allowing you to advertise directly to them for a very low cost, is a great way of boosting your sign-ups. 33% of the retailers I checked offered an incentive just for signing up, typically in the form of a 10-20% discount code in the welcome email.
List hygiene
Not the most exciting of topics, but a good welcome process can also act as a gatekeeper to your list, ensuring that only the best addresses make it onto your database, which can protect you from deliverability issues down the line or even professional sabotage. There are email address validation services like FreshAdress and LeadSpend which will authenticate an email address at the point of sign-up to ensure that it is an address at a valid domain, but also a valid address at that domain.
Confirmed Op-in
Another best practice is confirming opt-in – sending the subscriber an email with a link to click to make sure it really was them that signed up to the list. This establishes that the email address is actually a real one and the person signing up really wanted to receive the email in the first place. Not only does this keep your list clean and the people on it happy, but it can be an important bargaining tool with blacklist companies should you find yourself at their mercy. Only 5% of retailers surveyed used confirmed opt-in.
To sum it all up
As you can see, there are a number of factors to consider with your welcome programme, from the initial incentive coaxing new subscribers, limiting the barrier to entry on your sign-up form, to making the most of the process to keep your list healthy. There is no one size fits all solution, but it's important to make the most of this key time in your new relationship. It is the hello after all.
If you'd like help with with improving your welcome programme, we'd be delighted to help.