Why is a good email design important?
A well-designed newsletter is key to your email marketing success. A high-quality design can highlight your calls to action, prioritise your content and ensure you are instantly recognised in the inbox. Designing for email however is quite different to designing for the web, print or any other medium. Emails aren't like complex websites or graphic heavy posters; they should be nicely designed but somewhat basic. This will make it easy for your subscribers to open, engage and click. Here are five essential tips to making sure your email campaigns are a success.
Stay on-brand
Most people, before they engage with an email, they want to see who it's from. They will see your graphics first. They'll recognise the colours and the branding before they read it. Your newsletter template should match existing branding and other online marketing material. This creates a seamless experience for your customers and also promotes trust, increasing the chances of engagement. They know what to expect when they see your logo, colours and messaging. This is why your emails must be consistent with your brand and your website's design. An on-brand email will provide instant recognition in the inbox – and invite opens and clicks.
Prioritise and organise your content to encourage clicks
Since many subscribers will view your email only in the preview of their email client, consider where to put important information. Put your main message close to the top where it's easy to find though making sure other content isn't too crammed together. Use the top area as an introduction to persuade readers to read more or scroll down. Less is more with copy, and since your readers are more likely to skim through and not read every word of your email newsletter, it should be broken up using section and sub headings. Short sentence summaries for articles with a 'read more' link will increase the likelihood that subscribers will engage your offer and click through before getting bored and deleting it.
Make the call-to-action easy to find
Because (as described in the next tip) your email graphics may not always be seen, it is vital to refrain from placing calls-to-action into an image. Instead, get them to stand out by giving them live text and turning them into an attractive button. Use images to reinforce messaging, not for messaging itself.
Design for image-off
It's important to note that almost 50% of email recipients won't see images automatically. This is because the default in many email clients is to block them. Using images is still important to get your message or product across but simply make sure the design of the email still makes sense when images are blocked. Think about which areas of the email could use live text instead of images and always supply alternative text for images. (The images below illustrate an email using one single main image and one which has been image-off optimised).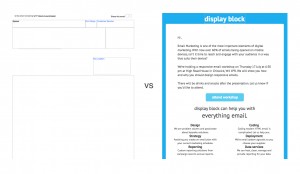 Make sure your emails are mobile optimised
With now over 60% of emails being opened on mobile devices, If you're not optimising your emails for mobile, then you're missing out on a huge opportunity to engage with these customers. Responsive email is all the rage in email marketing right now and display block (apart from producing quality email design) specialises in this type of optimised email. Coded to perfection, we can help you improve your customer engagement. info@displayblock.com